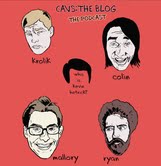 For those who have read "The Whore of Akron" it should come as no surprise that Scott Raab wants to see this Cavs team winning again (although, lets be honest, anyone reading this blog probably wants to see the Cavs as winners.)  On today's podcast Scott and I got into some real nitty gritty conversation about what direction this Cavs team is headed in.  Specifically, we discussed the development of Tristan Thompson, Kyrie Irving, Tyler Zeller, and of course, Neon Dion.  In addition, we got into the bench (which hasn't looked QUITE so terrible recently), Byron Scott as a head coach, and a little discussion on the other two Cleveland sports franchises.
As always, SoundCloud at http://soundcloud.com/cavstheblog/0016-the-return-of-raab
And iTunes at https://itunes.apple.com/us/podcast/cavs-the-podcast/id528149843
Also, for the sake of civility, lets try to keep this comment section nice.  Keep in mind that everything on this podcast is opinion.  That being said, let us know what you think about what is discussed.