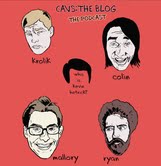 It might be early in the season, but six straight losses have us feelin' a little blue.
On today's podcast Tom Pestak, Nate Smith, Dani Socher and I spent some time talking about what we've liked and haven't liked so far this season.  Topics we touched on were the Cleveland Cavaliers' bench, Tristan Thompson's game, Kyrie Irving's passing, Dion Waiter, Tyler Zeller, and why the heck we keep getting blocked so much.  Plus much, much more.
As always, we're on iTunes at https://itunes.apple.com/us/podcast/cavs-the-podcast/id528149843
Also, you can find us on SoundCloud at http://soundcloud.com/cavstheblog/0015-is-it-summer-yet
Keep on the look out for more podcasting fun soon!
UPDATE: I need to fix the intro – it's time to mix it up a bit.  Any musicians/DJs/Etc. interested in helping me make a new intro song email me at Malloryfactorii@gmail.com or tweet at me @malfii – I'll feature you on a podcast in exchange!