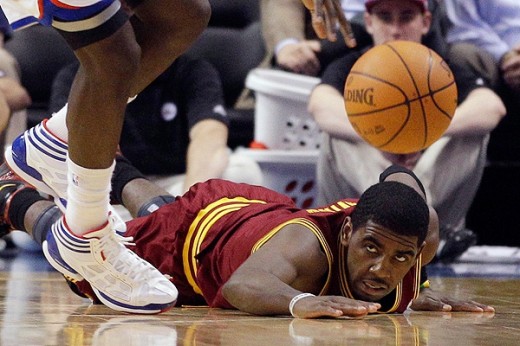 The Cavaliers came up short against the Sixers in a physical affair while Colin McGowan juggled various bootleg streams that provided all the clarity of looking through a beer bottle that's spent several weeks in a ditch. (In other words, I caught the game in dribs and drabs and in terrible definition. I'm going to keep this one short and let you guys discuss the finer details in the comment section.) Let us recap:
–Tough night for the Cavaliers' starting backcourt. Nothing was working for Dion Waiters—he struggled both at the rim and from distance—who finished the game with five points on 2-for-13 shooting, no assists, and three turnovers. Byron Scott stressed that he didn't want to call Saint Weirdo's return to Philadelphia a "homecoming" for fear of putting undue pressure on the rookie, but one wonders if Waiters was a whit too eager tonight. Kyrie Irving's night was better in the way a broken ankle is preferable to a punctured lung. Jrue Holliday and the Sixers' interior defenders did a great job of smothering him when he got to the rim (Philly racked up nine blocks), and Irving's jumper was uncharacteristically poor. The young tandem also combined for eight turnovers. A night best forgotten.
–Tristan Thompson had his best game of the season. The refs allowed a lot of contact, and he used that to his advantage, throwing his weight around when guards drove into the lane. Both he and Varejao were really active on the boards (28 combined rebounds, 13 of which were offensive), which played a large part in keeping the Cavaliers in the game (they shot only 35.7%). He got a lot of garbage buckets around the rim off put-backs, which are exactly the sorts of high percentage shots you want him to take. This was the sort of game we dream up for TT in our most hopeful moments.
–Tyler Zeller was rock solid off the bench (six points, seven rebounds). Now that he's back among the living, it's apparent how sizable the gap between him and the Cavs other substitute big men is. I still want him to hit the weight room, but he's a pretty good athlete for his size and has a soft touch around the basket. Keep that face intact, Tyler.
–In case you were wondering if C.J. Miles's waking nightmare concluded tonight, it did not. He had three points on 1-for-8 shooting. He split minutes at the backup small forward spot with Omri Casspi, who was unremarkable but not necessarily bad (I mean, he hit a three and a couple free throws) in 13 minutes of floor-time.
That's all for me. The Cavs host this same Sixers team on Wednesday. Until tomorrow, friends.