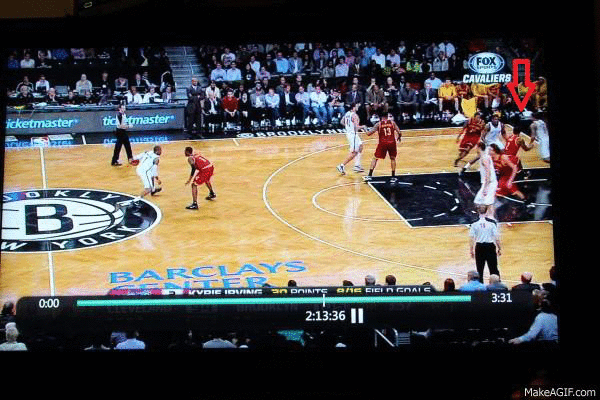 So the previous post covered the first half of the Nets, Cavs Game.  I didn't even talk about all the bad help defense, lazy double teams, and time spent standing around doing nothing.
Here are the second half highlights.
Play 11
Play 12
Things got a bit better for a while in the second half, as Irving played with more effort
Play 13
Play 14
Unfortunately, that's where it stopped.  In the most painful play of the game, the Cavs were down 11 with just under 4 minutes left.  If they ever needed a stop it was then.
I've distilled this pain down to the GIF at the top of the post.  Kyrie is responsible for chasing Williams around a baseline screen, and then KI slows, and slows some more, and just… stops…  and as Kevin put it to me in an email, "I remember the Deron Williams three where Kyrie trailed him by about 20 feet.  I also pressed rewind to figure out what happened.  Once second Kyrie was guarding him, the next D-Will was 20 feet away and wide open."   I don't know if it was the design of the defense for Kyrie to hand off to Waiters, and then to Varejao, but if it was, neither of them seemed to know about it, and it was a stupid design.  This wide open three pretty much sealed the game.  This play was so effective the Nets ran it again, and Irving did the same thing.
Conclusions
Zack Lowe of Grantland recently wrote of Jamal Crawford and Andre Miller, "Next time you watch a Clippers or Nuggets game, try following which player  each one of these guys is guarding. It's a fun exercise. Both teams will slide them around to the weakest perimeter player available, though Miller will make things more complicated for you by switching on almost every off-ball and on-ball screen."  Now these guys are a combined 102 years old.  Of course they're not going to be the best defenders in the league, but Kyrie is 20.  He can certainly give more effort and has better lateral movement than these two, and to be lumped in with their style of defense has to be well, embarrassing.
Byron Scott, Chris Grant, the Cavs Bench, and Kyrie Irving's defense are absolutely selling out Anderson Varejao and Kyrie Irving's offense right now.  The rotations make no sense.  This team has the worst bench in the league.  They play the worst defense.  They are possibly the most frustrating team in the league.  Until good Kyrie "buys in" to be a leader on defense as well as offense and destroys evil Kyrie, the team is not going to be get any better.