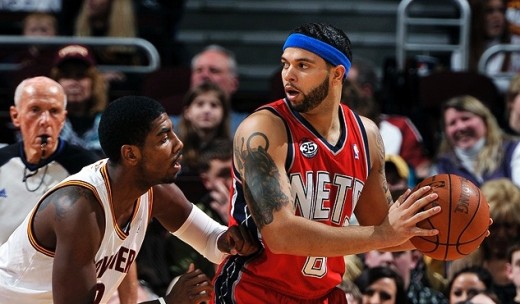 The Cavs opened up a first-quarter lead over the Brooklyn Nets (only sort of pictured above), but then Anderson Varejao and Kyrie Irving went to the bench, and, well, you can sort of anticipate what happened. Let us recap:
–The bench and defense sunk the Cavs in this one. The defense was poor from nearly everyone involved, but the Cavalier substitutes scored just six points despite 61 combined minutes of floor-time. We C:TB staffers were emailing each other a bit after the game, and Kevin's correct in asserting that this all-starters and all-subs thing isn't working. Dion Waiters got a little bit of work with the second unit tonight (though he had an bad game; it wasn't so much shot selection as the fact his jumper and finishing around the rim were off), but for the most part the subs were on the floor without someone who could either create his own shot or get a teammate the ball in a scoring position. I don't want to beat a dead horse, so I won't continue, but I don't think Scott can continue to throw this bench out there without Kyrie or Dion on the floor.
–I'm sure once Dwight Howard and Steve Nash get fully healthy and properly acquainted with one another in Los Angeles, that'll be the best pick-and-roll tandem in the league, but right now no one runs it better than Varejao and Irving. It's like the highly effective Andy-LeBron pick-and-roll of old, except Kyrie's an even better ball handler. Irving also varies the way he uses Andy's screen so that defenses can't key on any one move. When the pick works, he gets into the paint; when the defender goes under it, he shoots the three; and once in awhile he'll catch his man by surprise and reject the screen altogether. He even does that Chris Paul-ish thing where, when the defender's scrambling to catch up, he'll stop for a second and let his man run into him for a foul. It's astounding how many variations on the pick-and-roll Kyrie and Andy run because they understand the multitude of possibilities it opens up.
–One more Andy and Kyrie bullet. They both set career highs in points (35 and 34, respectively) and Varejao pulled down 18 boards. They are both utter treasures and we should thank them for making this game watchable. It would've been a complete slaughter if they hadn't both performed as well as they did. I think fans and players are pretty sold on the idea that Kyrie is on his way to becoming one of the very best point guards in the league, but Varejao has been playing out his skull for the last 15 months or so. (Massive injury layoff excepted, obviously.) In my estimation, he's gone from upper-echelon hustle guy to fringe all-star selection.
–I really like what the coaches have done re: putting Tristan Thompson on the baseline when Irving or Waiters penetrate. He caught—by my perhaps inaccurate count—four passes on the baseline that led to dunks or free throws. They should have all been dunks, but TT still takes way too long to get off the ground. Regardless, he does a good job of moving out of the way to give the guards a lane to the basket, and if a big man steps in front of them, he's ready for the pass. Thompson had 14 points on 6-for-11 shooting and was 2-for-5 from the line, which means that Byron's magical free throw realignment technique apparently will not transform TT into an 80% shooter from the stripe.
–Jon Leuer's going to start making open jumpers at some point, right? He clanked a few more tonight, and he's pretty useless if he's not knocking down fifteen-footers. I'm all for playing him over Luke Walton or Samardo Samuels, but he needs to find his shooting touch.
The Cavs finally return home to face Detroit on Saturday. Until tomorrow, friends.