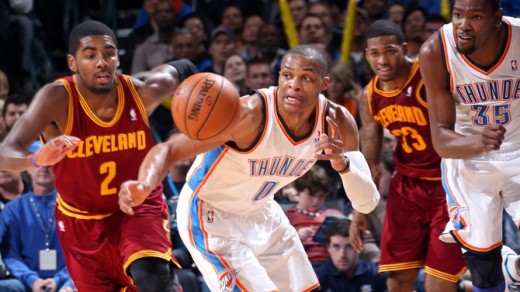 This one opened up late. The Cavaliers had a great first eight minutes, then spent the majority of the game battling a five-to-ten point deficit. It was by no means a drubbing, but the Cavs rarely threatened to take the lead. Let us recap:
–I expected to spend a bullet point admonishing Kyrie Irving's defense on Russell Westbrook, but Westbrook's phenomenal night wasn't really Irving's fault. The bulk of Westbrook's points came either against the Cavaliers' backup brigade and/or via his uncharacteristically hot shooting from beyond the arc, where he was 4-for-6 (including one at the end of the third quarter from 30 feet out). Not that Irving's defense was particularly good: a number of times, Westbrook was able to blow past Kyrie with hesitation moves, crossovers, and great bursts of speed. To be fair, Irving did the same sorts of things to Russ. One of the reasons the development of Tristan Thompson the Shot-Blocker is so crucial is because it would do a lot to meliorate the effects of Irving's lacking perimeter defense. It would make the job of someone like Westbrook more difficult if, once he got past Kyrie, he had to worry about getting his ensuing lay-in swatted away.
–Irving does a great job of collapsing the defense with his driving ability, then finding an open man at the three-point line, but that open man at the three-point line is often Alonzo Gee, who's not entirely comfortable shooting (open or otherwise) from beyond the arc. I like Gee a lot, and he played pretty well tonight—18 points on 7-for-17 shooting, although he should probably never take more than 10 shots in a game—but he desperately needs to improve his range. He shot just 32% on triples last season. I'm aware improving one's jumper is easier said than done, but the Cavs would benefit handsomely from Gee locking himself in the gym with a rack of basketballs and trying to become a Jared Dudley type.
–Boobie Gibson took a bunch of Dion Waiters's minutes in this one, not because Dion played particularly poorly, but because Gibson was a revelation off the bench. Bizarre game for Boobie: he was 1-for-5 from three-point land, but he ended the game 6-for-12 from the field (some of those shots were just barely two-pointers) with five rebounds. Waiters finished with a solid first quarter (seven of his eight points) and just 21 minutes. One note on Waiters: the officiating was a whit soft in this game, but he needs to control his foul count, especially early in the game. He had some momentum going in the first quarter, then landed himself on the bench after picking up his second foul with 5:07 to go.
–I'm always hesitant to criticize rotations (it's rather like criticizing playcalling in football) because I don't know what Byron Scott is trying to accomplish with this second unit, but, um, what is Byron Scott trying to accomplish with this second unit? Donald Sloan can't run the offense when the only decent scorer on the floor is Boobie Gibson. I don't know if this scares Scott or what, but it's time to give the Irving-absent keys to Saint Weirdo and just let him do whatever he wants.
–I don't know that it would have made a huge difference in this one, but here's hoping Tyler Zeller recovers from his concussion soon. (I'm glad the Cavs are being cautious, by the way. You don't mess around with head injuries.) He helps the second unit in terms of shouldering some of the scoring load, and he's the only big man on the team who can knock down a 15-footer with some consistency. Varejao, bless his heart, took a few open jumpers from the elbow off of some pick-and-pop sets with Irving, but that's not his game.
–10:30-ish in the second quarter: Casspi clanks an open three, then lets Kevin Martin blow by him in transition. Casspi hacks him, and Martin lays it in anyway. Then Casspi dribbles the ball off his knee on the next possession. I'm rooting for the Israeli, but he's having a rough time of it so far this season.
–One last thing: Irving made a terrific 3/4 court pass to Gee midway through the third when the OKC defense was lazy getting back. I don't know who coached him to do this, but he gets his head up the second he receives the ball, which makes plays like that possible.
The Cavs travel to Brooklyn Tuesday to take on the Nets. Until tomorrow, friends.
UPDATE: Well, maybe Gibson getting burn over Waiters was partially Waiters's fault. Jason Lloyd reports that Byron Scott was a little miffed with Waiters's performance, though he won't elaborate.