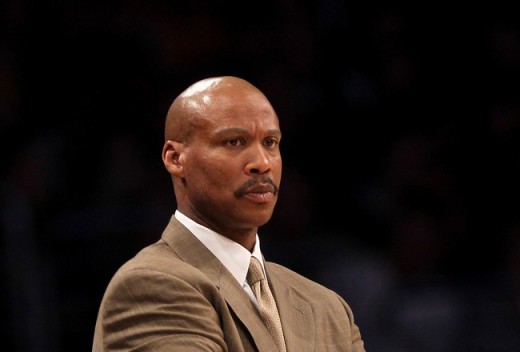 This year's Cavaliers average 22.7 years of age. The oldest player on the roster is Anderson Varejao, and he's only 30. Admittedly, Luke Walton is 32, but I'm doing my best to pretend he isn't on this team. Regardless, the Cavs are a young team. Young teams make mistakes. Enter Byron Scott. Occupation: coach. Favorite mode of communication: yelling. Byron Scott is not known for going easy on his players, and he's going to have plenty to get angry about this year. Just five games in, Coach Scott has seen it all: bad inbounds defense that leads to a game-winner, myriad turnovers, and Tristan Thompson's insatiable desire to block mid-range jumpers, to name a few. In honor and respect of Byron's ability to mold this young squad to his will, we'll be highlighting the most debilitating issue this team faces semi-weekly, and speculating on what Coach will do about it.
Through five games, the Cavs' biggest problem has been free throws. As a team, they're shooting 61. 2 percent (74-of-121). That's last in the NBA. Unsurprisingly, the main contributor to this debauchery of basketball fundamentals is the much-maligned Tristan Thompson, who's hit on exactly 50 percent of his free throws this year. (The positive outlook on this: Shaq never hit his free throws either! The negative: Tristan doesn't do anything effectively other than rebound on offense, and hasn't improved from last year.) But to be fair, this is to be expected from Tristan. More alarmingly, Dion Waiters has hit only 6-11 free throws so far. As a player with a reputation as a shooter, that isn't good enough, especially for someone who figures to be on the floor at the end of close games quite often. Even Kyrie Irving, the Anointed Son, is only hitting on 78 percent of his free throws so far. The average free throw percentage in the NBA usually hovers around 75 percent. If the Cavs had hit on 75 percent of their free throws this year, 16 more points would have been scored. That's 16 points left on the table.
It's safe to assume that approximately 10,000 free throws will be attempted in practice this week. Allen Iverson's emotions on the subject notwithstanding (yes, I'm aware that reference is about three years past its expiration date), Coach Scott knows practice makes perfect. There isn't much else to do, anyways, when it comes to free throws. As opposed to defensive rotations or the pick-and-roll, repetition is really the only path to improvement. Let's hope things pick up. In the meantime, it makes me smile to imagine Dion Waiters shooting free throw after free throw while Byron stands and screams in his ear about FIFTY FOUR PERCENT. Practice is supposed to make perfect, but let's just hope practice makes three of four.
(Stats from:
http://www.cleveland.com/cavs/index.ssf/2012/11/cleveland_cavaliers_free-throw.html)