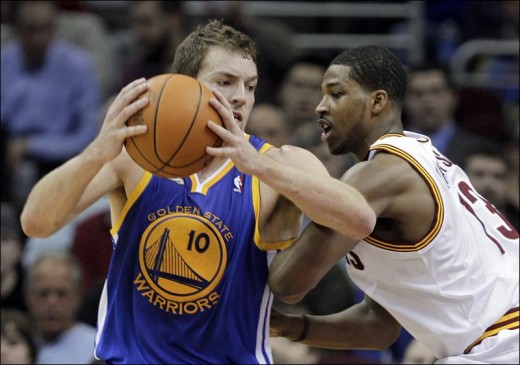 This one was a little uglier than the score indicates. Against the Warriors—and without Tyler Zeller and Andy Varejao—the Cavs often looked overmatched. They clawed back from a 17-point deficit to take the lead in the third quarter, but their defense ultimately let them down and Golden State cruised to a 10-point victory. It's hard to take a lot away from this game because the Cavs were missing their best big man (and defender) in Varejao, and Zeller, I think, would have fared well in a game that had some frenetic up-and-down stretches. Regardless, let us recap:
–All fires have to burn alive to live. Dion Waiters's hallucinogenic fever finally broke tonight; he went 5-for-15 with some godawful shot selection. At one point in the third quarter, he took a step-back baseline 20-footer that clanked off the side of the backboard and yelled out "HASHTAGSAINTWEIRDO!" This is all part of the Dion Waiters Experience, obviously. He is the Westbrook to Irving's Durant, and there are going to be games when his jumper is off and for whatever reason he just. keeps. shooting. This is fine, given that he's the second- or third-most offensively gifted player on the team (depending on how you feel about Varejao) and the fourth-most offensively gifted player on the team might be Tyler Zeller. It's not like there's a teamful of gunners he should be deferring to when his shot isn't falling. Just keep it to one horrendous air ball three-point attempt per game, okay Dion?
–Kyrie Irving and Steph Curry didn't even pretend to guard each other. At one point late in the game, Byron Scott put Alonzo Gee on Curry, who passed the ball to an Irving-guarded Harrison Barnes at the top of the key. Barnes promptly blew by Irving and into the lane. I hope Scott and his staff try to embarrass Irving in film sessions about his defense. He's too good of an athlete to not become a competent defender. But he was, y'know, characteristically phenomenal on the offensive end. I would say he carved the Warriors' defense up, but the Warriors' defense is rather like pork shoulder that's been braising for twelve hours. There's no real structural integrity to it. Let's just say Kyrie poked the Warriors' defense with a fork and it fell apart. Anyway, he had 28 points, eight assists, and seven rebounds. "M-V-P!" etc.
–Tristan Thompson posted a double-double (11 points and 10 rebounds) tonight on 4-for-8 shooting from the field. He had a couple nice put-backs and scored off some slick passes by Irving out of the pick-and-roll. 3-for-8 from the free throw line isn't cutting it, but we're trying to be optimistic here. On the defensive end, Thompson got torched by David Lee (who had 22 points and 14 boards), in part because he was too eager to go for shot blocks. A few times, when Lee caught the ball 15-plus feet from the basket, TT lunged at him, thinking the shot was going up. All Lee had to do was throw a little pump fake and he either blew by Thompson or drew a foul. This goes back to what I was saying earlier today about TT not being a natural shot-blocker: he needs to learn when to go for the block and when to bear down and keep his body in front of the offensive player.
–I didn't notice this until I looked at box score, but Samardo Samuels had a pretty good game: 11 points, 7 rebounds, and three post-foul admonishments of the referees. Samuels may be a 10th man, but he gets pissed off at the referees like he's been playing at an all-star level for a decade. How dare you call me for a foul on that play! I thought superstars like myself got a little more leeway in this league!
–Jon Leuer sighting! He can't guard anyone, and he is appallingly not good at jumping or running, but he's better than Luke Walton, sort of. He's got a nice 15-footer as long as no one's guarding him. My point is, if the Cavs want to play an unathletic white guy with a decent jumper at power forward—something this coaching staff has seemed very committed to doing over the past few years—then Leuer's probably the best choice.
–"Hey, why isn't Omri Casspi getting minutes?" [Watches Casspi attempt to play professional basketball.] "Ohhhhhhhh, so that's why."
–A programming note: ESPN has disabled their "photos" feature for games, which is where I used to pluck the post-game image from. Does anyone know of a good place to get photos from a game that is in progress/recently finished? Hit me up at colinsilasmcgowan [at] gmail [dot] com or just throw something in the comment section if you have any suggestions. Thanks.
The Cavs continue their west coast swing in Phoenix on Friday. Until tomorrow, friends.
UPDATE: Dion Waiters was limping around the locker room post-game due to a bruised right thigh. And apparently (the Golden State broadcast team didn't tell me this) both Irving and C.J. Miles played tonight with food poisoning.