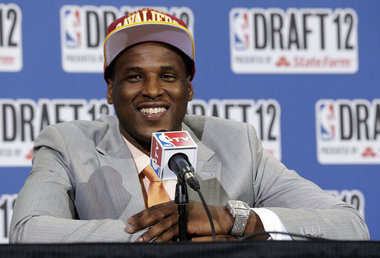 Being a Cavalier fan over the last few years has been not unlike being trapped in the back of a garbage truck as the steel compacting mechanism repeatedly crushes your body until it's a flesh bag for bone dust. It's like Hell, but with wind chill. So you'll excuse me while I celebrate this November Cavalier victory by filling my apartment with gleeful obscenities and fixing myself a beverage I like to call "victory juice." (High Life with a lime wedge because I'm an aristocrat. When the Cavs lose, I call this beverage "High Life with a lime wedge.") We fell down the Dion Waiters Insane Overconfidence K-Hole tonight, and we're alive in its thrall. Or at least the steel compacting mechanism is momentarily stuck. Let us recap:
–Dion Waiters's favorite rapper is the apocalypse. He was out of his mind, draining a bunch of stupid shots with aplomb. He attempted 11 three-pointers—the majority of which were contested—and sank seven of them. At one point in the third quarter, he nailed three straight threes he had no business taking. Then he transformed into a falcon, grabbed a flare gun, and skywrote "Saint Weirdo" in orange smoke. His mind went blank except for the color fuchsia with 4:10 left in the fourth, such was the intensity of his hallucinatory state, and he proceeded to knock down a pair of threes while literally having no idea who he was or what basketball is.
–Kyrie Irving wasn't on Waiters's level in that he wasn't bombed out on his own fearlessness, channeling Sun Ra with his jump shot. He had trouble finishing around the rim in the second half (DeAndre Jordan blocked a lot of his layup attempts) but was otherwise spectacular. The bulk of his points came in the first quarter, when he burned through Chris Paul and the Clips' interior defense early, then stroked three consecutive triples to close out the period. The final line on Irving: 24 points, 10 assists, three turnovers, and a three-pointer with 28 seconds to go that iced the game.
–Tyler Zeller—before getting popped in the face by an inadvertent DeAndre Jordan elbow (x-rays negative)—had a great game. The major concern I've had about Zeller is that he isn't going to be able to handle the physicality of the NBA—that he's going to prove too waifish and not quite aggressive enough to defend and rebound adequately. He acquitted himself well against the most athletic front line in the league (and, admittedly, scrubs like Ronny Turiaf and Ryan Hollins), grabbing seven boards and playing adequate defense. He even bothered a few driving layups with his length when he came over to help from the weak side. On offense, he accumulated 15 points by running the floor and knocking down the odd open jumper. His best game as a pro.
–Byron Scott put Alonzo Gee on Chris Paul nearly every time they were on the floor against one another. Trill AG did a fine job; he isn't quick enough to get right up in CP's face, but he moved his feet and funneled Paul toward help when necessary. He even caused a few bad passes and deflections with his length. I don't know if Scott was blowing smoke or if he's a bit deluded by his affection for Gee when he recently said that Gee is "one of the best defensive players in the league," but it appears—regardless of the gap in defensive prowess between Gee and, say, a truly elite stopper like Tony Allen—Scott will assign him to the other team's best perimeter player because he believes Gee is up to the challenge. I like this, by the way. Even though he's not Andre Iguodala, Gee is a good athlete and understands angles well enough to curb the effectiveness of most players he's assigned. I can see Gee buying into this role as the Cavalier who checks all-star guards and wings. Now, if only we could tweak that jumper…
-Speaking of coaching decisions, I wonder exactly what Scott is doing when he has Boobie Gibson run the offense, even for the odd play here or there. I know he wants to give Irving some opportunities to play off the ball and that Donald Sloan is less than competent in his role as backup point guard, but Boobie should never touch the ball unless he's immediately swinging it to a teammate or stepping into a jumper. One of the flaws in his offensive game was exposed in the first quarter when he caught the ball on the left wing, took a couple dribbles, and was promptly blocked by a lunging Clipper defender. Boobie lacks the quickness and ballhandling skills to create his own shot with any consistency. He's a terrific spot-up shooter, but giving him the ball at the top of the key or on the wing and asking him to create something is almost always going to end in tears.
–Let's not talk about Tristan Thompson. Today is not a day for two negative bullet points. Let's not bring discontent into what is a mostly jubilant home.
–Ryan Hollins had two points, five rebounds, two turnovers, and no flagrant fouls in which he threw his big stupid body into another player in a way that ostensibly defied the laws of physics. Also his best game as a pro.
The Cavs travel to Golden State on Wednesday to take on the Warriors. Until tomorrow, friends.