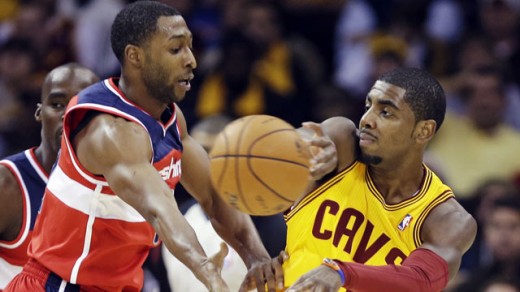 That was awesome.  Sure, without John Wall and Nene, at home, the Cavs should beat the Wizards nine out of ten times, but I am glad NBA basketball is back…and that was awesome.
Cleveland lead most of the way and was up 13 with one minute remaining in the third quarter.  A Sloan, Gibson, Miles, Walton, Zeller line-up allowed that to quickly erode, until Cleveland actually trailed by two midway through the final quarter.  The starters checked back in, and the good-guys embarked on a 20 to 8 run to cruise to victory.
Mallory was supposed to cover this game, but a hurricane sabotaged his civilized existence, so I will cover this with some quick bullets.
Kyrie Irving!!!  That was fun!!  His 29 points paced the Cavs on the way to a +23 for himself.  He canned threes, reached the lane at will, found open cutters for six assists…Kyrie Irving!!!  I'm glad he's around.
Anderson Varejao!!!  Almost completing a triple-double, posting 9 points, 23 rebounds and 9 assists.  And no typo; that is 23 rebounds.  Twelve of those were on the offensive glass, as Andy repeatedly solved complex in-air ball-flight geometry equations to outwit and out-hustle the outclassed Wizard bigs.  He repeatedly found cutters with a flair only found in soccer-bred players.  The idea of trading Andy should be reserved for people that don't like watching basketball.
Tristan notches a double-double with 12 points and 10 rebounds.  The last two minutes featured a dunk parade, as Kyrie and Andy set TT up with three gimme slams.  Tristan also tallied 5 assists.  I won't even check; that has to be a career high.
Dion Waiters scored 17 on 14 shots.  He picked Bradley Beal's pocket twice and headed the other direction for dunks.  Those were obviously nice highlights, considering their respective draft positions.  Also, check out his shot chart.  Basically every shot at the rim or from three.  He penetrated with relative ease, and despite the zero assists, several Cavalier free throws are attributable to Dion drive-and-dishes.  Nice game from the rookie.
Gibson hit two of four from deep; exactly what is asked of him.
CJ Miles and Gee were disasters, as they combined for 6 points and 6 turnovers.  Neither was able to create a decent look at the basket and both ventured into ill-advised drives.  Gee missed a couple of open threes, and occasionally looked out of place on defense.  Ultimately, inconsistent is the type of player these guys are.  Especially Miles.  Next game will probably be better.
Then the game after that will be worse.
A few thoughts on the rotation; Donald Sloan looked fine in the first half, getting into the lane and hitting a floater, and also having an and-one negated due to a phantom offensive foul.  The second half was worse than that.  He finished with 4 points on 5 shots with 1 assist and 2 turnovers in 13 minutes.  I am going to repeat this until it happens.  Dion Waiters needs to play "point guard" with the second string, next to Boobie.  Sloan should function primarily as the twelfth man, break-glass-in-case-of-emergency option.  Next, no Omri Casspi tonight.  Not sure what the story is there, but in my mind, the thirteen minutes that went to Sloan, belong to Omri.  I would even like to see an opportunity for Omri to play with Kyrie, with a Dion, Gibson, Gee back-court facing off against the opposition second-unit.  Finally, no Leuer or Samardo, but instead a healthy dose of Luke Walton.  Walton was not wearing his huge knee braces and actually looked solid in the first half, knocking down a deep J and threading a backdoor-bullet, but everything looked sloppy in the second frame.  His minus-11, along with Sloan's minus-13, rounded out the on-court bottom for the evening.  Combinations of Zeller, Leuer, Walton, Samardo need minimized, with whichever of those two is in the rotation, always paired with Varejao or Thompson.
Well, that's it for tonight.  Nice start to the season, but not every game will feature a lottery team missing their two best players.