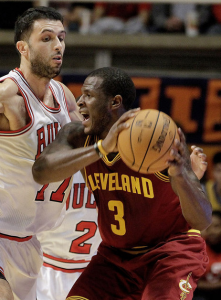 What are Cavs followers talking about?  Well obviously, Dion Waiters.
Today, Scott at WFNY tries to answer the question "Could Dion Waiters fill the James Harden role?"  It is a long-term question.
For this season, given the presence of Gee, Miles, Casspi and Gibson; I want to see Waiters play around 25 minutes per game. The link briefly touches on this, but I agree the Waiters – Gibson – Gee backcourt could provide the same boost to Cleveland that the Sessions-lead second string did last year.
Let's end there; I may need to start a Dionaholics Anonymous class.  "My name is Kevin, and I can't stop blogging about Dion Waiters."