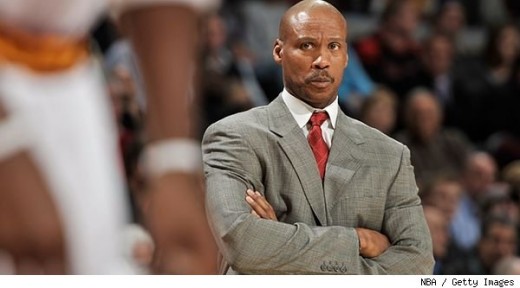 "Camp Scott" opens today, complete with the notorious trash cans for players to chunder into between laps if they show up out of shape. With an extension rumored to be in the works, it's as good a time as any to look at why Scott appears to be the right guy to develop the Cavs now, and win with them in the future.
You have to respect a coach who can whip out his phone and dial up a highlight like this. (You'd think a basketball player named Purvis Short would be destined to be posterized, right?)
How's this for association with greatness? Scott played with Kareem, McAdoo, Jamaal Wilkes, James Worthy, Magic, A.C. Green, Michael Copper, Vlade Divac, Reggie Miller, Rick Smits, Mark Jackson, Shaq, Kobe, Nick Van Exel, Robert Horry, and Derek Fisher.

Oh and Big Country.

He's got a pretty good track record for developing talent: Richard Jefferson, J.R. Smith, David West, Chris Andersen, Tyson Chandler, and of course, Chris Paul all improved as players under B. Scott.

Trivia alert: in 1997 Scott signed for the largest contract ever offered to a player in Europe, and along with Dino Radja, led Panathinaikos to their first Greek League championship in 13 years, scoring 21 in his final game.

He was named Most Valuable Player and a European All-Star, or so this website tells me.

This may not seem like a big deal, but the Greek league is CRAZY.

There's actually a video highlight of the 1997 championship compete with an Evanescence soundtrack showing

fans dancing in jubilation around

bonfires in the stands.

He knows how to get to The Finals… having made it to the NBA finals

seven

six times as a player and winning three.

Scott even coined the term three-peat.

As a coach, he took the Nets to The Finals in 2002 and 2003 and lost to his old team, the Lakers

both times

in '02 and then the Spurs in '03.

Of course the Eastern Conference stunk then. (Corrections: thanks to Paul in the comments section who pointed out the factual errors that are crossed out from the original post.  Don't worry.  Colin's got me running extra suicides after practice.)
In addition to the sweet 'stache, Scott is consistently the best dressed coach in the league.

Scott was GQ's 2002 "coach of the year," has his own tailor, and as of 2009 owned 82 suits.

82?

"Each suit gets worn only twice a season — once on the road, once at home. Then it's put away."

Hey, OCD can be a good thing for a coach.

Each team Scott coached improved in its second year.  New Orleans improved for four straight years, culminating in a team with the best point guard in the league, an all star stretch four, and a premier defensive center.

Despite the similarities, the Cavs have more upside and a much better cap situation than New Orleans which had too many cap killing veterans (Peja Stojakovic, anyone?).

And New Orleans absolutely fell apart after Scott was fired.

It's pretty obvious in hindsight that Scott wasn't the problem.

Let's hope Chris Grant manages the Cavs better than Jeff Bower managed the Hornets.

At least we know Dan Gilbert is no George Shinn — one of the worst owners in pro sports history.
Coach Scott is a master of the boring quote.

He can flash a smile while delivering a quote which will soothe even the most rabid reporter.

Also, he makes sure to look a reporter in the eye, while keeping his vocal delivery smoooooth.
Byron Scott is the perfect example for Dion Waiters to emulate as a player: Career PPG, 14.1 (18.1 Points Per 36 minutes), .482 FG%, .37 3PT%., 1.1 Steals, and could play both guard spots.

Conversely, Scott believes in Saint Weirdo, ranking him the second best player in the draft.

This is kismet.
B. Scott certainly has his detractors. His relationship with Jason Kidd completely fell apart, leading to Scott's firing in New Jersey. In the mold of Scott Skiles and Doug Collins, he may just be a coach that is inflexible and demanding enough to eventually wear on his players. For now, he seems to be the perfect coach to mold this young group of acolytes, and transition them from developing to contending. I've no doubts that Samardo Samuels is in shape this year (or at least was in summer league) because of Byron Scott kicking his butt last year.
So good luck, Byron.  And to your charge of young Cavaliers, we wish you an October free of regurgitation.