A first Cavs rookie receives the "10 things" treatment today.  Pre-draft, I liked Tyler Zeller a little more than most, rating him 8th of potential 2012 draftees.  So at least in this humble blogger's book; Cleveland netted two top-ten players from a loaded class.  For an inclination of why…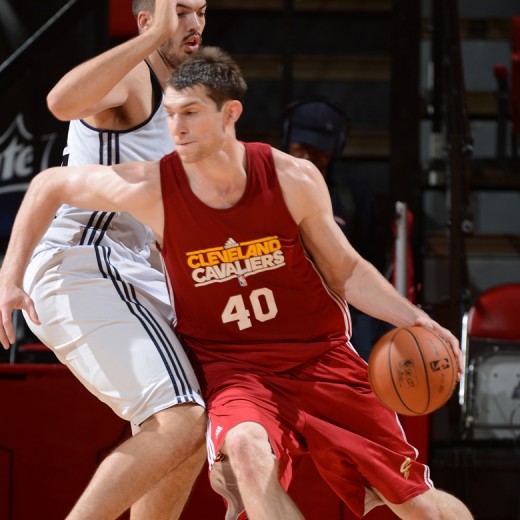 Zeller possesses great size.  Standing a legitimate seven feet, and weighing 247 pounds with 6% body fat; he is big.  At the draft combine, he performed sixteen bench press reps of 185 lbs.  Although lack of bulk sometimes resides on lists of his weaknesses; physicality appears more likely to hold him back.  After a year or two working with NBA staffs, there should be little doubt about "strength".  T-Zell requires toughness; perpetually fighting for position and rebounding advantage.
Athleticism serves as a strength, too.  Always lauded for his speed running the floor; of 44 centers tested pre-draft in 2012, he ranked third in the agility drill, eighth in sprinting and ninth in leaping.
He is also skilled.  Leading up to June 28, Draftexpress.com explored the per-possession offensive production of 26 big men.  Despite the seventh highest usage, he posted the fourth best per possession scoring efficiency.  This included runner-up status in transition and fourth place as a jump shooter.
An excellent free throw shooter, he converted 77% for his NCAA career and 80% last year.   Thanks to hustling up-court, grabbing offensive boards, and fighting for deep position; he lead the ACC in free throws made & attempted.  Floor Percentage measures the ratio of a player's used possessions to those ending with at least one point scored.  Zeller ranked 20th in the NCAA for Floor Percentage, with no player above him posting a higher usage rate.  (Most of the better Floor Percentages were posted by role players.  The most interesting exception is Tyler's brother, Cody, who as a freshman netted the NCAA's fourth-best floor percentage, while using one-quarter of IU's possessions.)
Frequent praise befalls T-Zell for his work ethic.  The results shown, as his PER increased from a freshman year 15.8 to 23.4 to 26.5 to 29.8 during his senior season.  Offensive rating reflected a similar trend.  I foresee him eking out two more years of increased strength and skill, with pleasant results.
A fairly skilled post player, he knocks down ambidextrous hook shots and flashes a nasty drop step.  With a few more pounds of muscle and a mean-streak, these skills should prove beneficial, especially when Kyrie heads to the bench.  Tyler's velcro hands and a quick & accurate shot serve as valuable weapons when Kyrie plays.
Like Tristan, no need to worry about motor.  Zeller races up & down the court and makes help efforts on team defense.
In addition to winning ACC Player of the Year last season, T-Zell received NCAA Academic All-American of the Year honors.  A back-to-back NCAA All-Academic Team member, he replaces Shane Battier as the most recent ACC baller such honored.  That's eleven years, so congratulations on a unique accomplishment, Mr. Zeller.
Turning 23 this season, hopefully he bolsters the maturity of a very young roster.
Using his size and constant effort, Zeller finished fourth in the ACC for offensive rebounding percentage in 2011 – 2012.  Combined with Tristan's effectiveness in this area, second chances could be a team strength for many years.
Hopefully Zeller, Tristan, and Jon Leuer spent most of the summer being abused by the team's strength and conditioning gurus.   I obviously do not know any of the three, but my inclination says they need to get meaner.  Leading into every game, convince themselves that every opponent wants to punch their dogs, raise their taxes, steal their groupies, or whatever it takes to get angry.  Ultimately, I like the combinations and contrasts of skill that these three guys bring to the team.  Watching the group succeed would be a joy.  Now they only need an additional  seven-foot, 270 pound agile behemoth that snatches defensive rebounds like King Kong grabs airplanes.  Like Aaron Gray, but different.