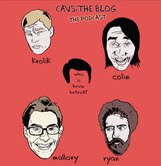 We've seriously got something going here!  A ton of Kevin posts, some more free form Colin thoughts, and two podcasts in a two week period?  We're almost there, people!  And we can't wait!
You know what else I can't wait for?  The fantastic play "Our Greatest Year," which will soon be playing in Ohio (next week) and New York (October 11th).  Written by Robert Attenweiler (of Cadavalier.com) and Scott Henkle, "Our Greatest Year" tells the story of the 2007 sports season from the point of view of a Clevelander.  You guys may remember that year because of the success of the Browns, Cavs, and Indians.  Oh, youth.
Anyway, I was lucky enough to get these guys on the line to chat about their play, the Cavs, and the state of Cleveland sports.  Give it a listen, and definitely go check out their play – Ohio tickets can be found HERE and New York City ones can be found HERE.
As always you can find our podcast on Soundcloud by going to http://soundcloud.com/cavstheblog/0012-the-theater
In addition, we're on iTunes (duh) at http://itunes.apple.com/us/podcast/cavs-the-podcast/id528149843 but it takes a little time for the new pods to show up there.
We've got a mega podcast coming for you next week, so keep on the lookout for that too.