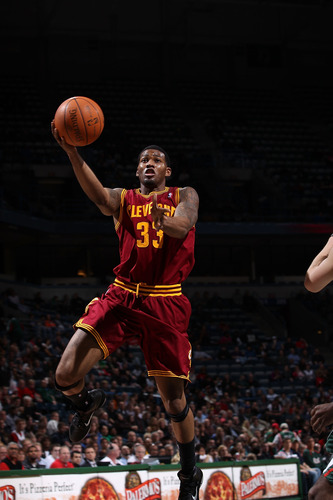 Alonzo Gee rose to prevalence last year thanks to highlight reel finishes and the frequent ability to resemble an NBA player.  Only 25, fierce-dunking Gee signed with Cleveland for 3 years earlier this month.  Here are ten reasons to appreciate the AG experience:
But you know AG provides more than highlights.  Of 116 swingmen playing 30+ games last year, Gee ranked 22nd in rebounding rate, including tenth on the offensive boards.   He also snagged the 14th most steals per 40 minutes.
Last year, he finished second on the team in minutes and split his time evenly between the wing positions.  Often matched against the opponent's best offensive option, he held opposing shooting guards to a 15.7 PER and kept small forwards in check at 14.5.  Team defense was 3.7 points better per 100 possessions with him on-court; second best of all Cavaliers that averaged 10 minutes per game.  While not a lock-down defender, he typically gets the job done.
He's an underdog.  Undrafted out of Alabama, written off by know-nothing media as recently as one year ago, Gee netted himself a nearly eight-figure contract after his improved 2011 – 2012.
Over the first forty games last season, prior to injuries to Varejao & Kyrie, and before Ramon Sessions packed up for LA; Cleveland struck a 34-win pace for a full season.  Gee was the 5th best player on a respectable NBA team.  The season completely unraveled over the final six weeks, but a top-5 player on a borderline-playoff squad can be a top-8 player on a future contender.
Speaking of the end of last season, the Wine & Gold started April embarking on 9 games in 13 days.  Gee then sat three games due a sprained ankle, before returning for four more games in five days.  Carrying far too heavy of a load for a depleted team battling an onerous schedule, Gee struggled mightily, converting only 34% of his field goals and 27% of his threes.    Did you know that other than April 2012, in his other 175 career attempts, Gee has stroked 35.5% of his threes?  And over the last three NBA seasons, NBA average falls in the 35 – 36% range?  With a resume of: tolerable shooter, solid defender, top-drawer rebounder, and ESPN-top-ten-play-contender; he is worth…
Three years and $10 million.  This is an extremely low risk contract.  The Cavs are way under the salary cap right now, and the third year of Gee's deal is a team option.  Basically, even if his carriage turns back into a pumpkin, he serves as an expiring contract trade chip as early as 2013 – 2014.  And remember, in that season, the incremental luxury tax sets in.  Then in 2014 – 2015, the "repeat offender" tax provisions set in.  At the exact time that teams are beginning to experience the full wrath of the new CBA, Cleveland positions themselves with one more asset to potentially deal.
Did I mention the dunks?  How about an exclamation point on a late season victory against an eventual Eastern Conference semi-finalist?!?
And finally, remember when Cleveland beat Miami two seasons ago?  Baron-Davis-to-Alonzo-Gee-Smash!! Surely Kyrie and Alonzo connect on a few of these next year.
So there you have it.  For a future contending team, a capable back-up for both wing positions, signed for a reasonable price.  Making hustle plays, highlight reels, and open threes, he serves as another young & athletic component on an increasing young & athletic squad.