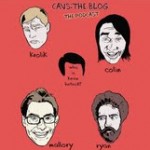 Wait…what's that?  It's not 99 degrees outside anymore???
Holy cow!  I just drank a pumpkin spice latte!  And I think I saw a brown leaf on a tree!  And wait…THE NFL IS ON???
Oh…My…GOSH!  It's almost fall!  Which means one thing to me – the NBA season is right around the corner!
The long and short of it is that we're in the midst of the slowest part of the NBA calendar, which means there ain't a whole lot to discuss.  Thankfully, I don't care about calendars so I went ahead and recorded a podcast anyway.
As always, we're on iTunes but that'll take a day or two to upload – http://itunes.apple.com/us/podcast/cavs-the-podcast/id528149843?mt=2 but we can also be found at on SoundCloud – http://soundcloud.com/cavstheblog/0011-all-about-waiters
For this podcast I was lucky enough to get Fred Katz on the line.  Aside from having been blessed enough to be a peer of mine during my high school days, Fred is a fellow contributor to Truehoops and has a really great history with the Syracuse basketball program.  Basically, this guy knows a ton about basketball and Dion Waiters.
Fred and I went through the strengths and weaknesses of Dion's game, what his fellow teammates and coaches thought of his on court stuff, and about whether or not we, as Cavs fans, should worry about his off court issues.  We also spent a couple of minutes talking about the future of the NBA.
ENJOY!
Today's guest, Fred Katz, is a contributor to ClipperBlog.com, HoopSpeak.com, ProBasketballDraft.com, and RotoWire.  You can hit him up on twitter @FredKatz