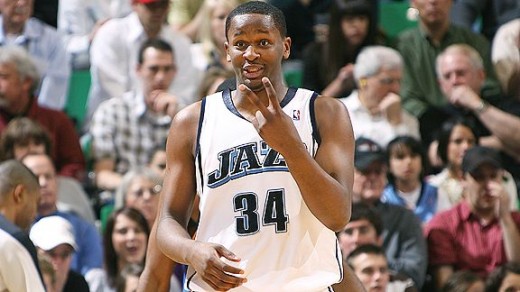 Note: We have a new links aggregator at Cavs: The Blog named Dani Socher. Unfortunately, we're having some technical problems re: getting Dani's account set up, so I'm posting his stuff from my (Colin's) account. Bear with us. We will make it through this together as a family who love each other very much and sometimes argue about sports.
"Free agent forward C.J. Miles has signed with the Cleveland Cavaliers, according to a series of tweets from the Salt Lake Tribune's Brian T. Smith." (Sports Illustrated)
"At this point, Cleveland seems content to wait this thing out and bring back Gee for just one year if they have to. They aren't going to offer a multi-year contract and bid against themselves — that's just bad business." (Conrad Kaczmarek)
"So in the meantime, while football is getting ready to start and baseball is going through all their trade deadline hoopla, here's some random basketball thoughts to pass the time." (Andrew from WFNY)
"Tolliver, 27, has attracted interest from Minnesota, Indiana and Cleveland…" (Michael Lee)
"Alonzo Gee has not gotten any offers from other teams." (Bob Finnan)
"Barbosa has spent the majority of his NBA career providing instant offense and energy off the bench as a backup at both guard positions. That's something the Cavs could use, as their backcourt currently consists of reigning Rookie of the Year Kyrie Irving, lottery pick Dion Waiters and veteran Daniel Gibson, and possibly Sloan and/or recently obtained Jeremy Pargo." (Sam Amico)
"(Cavaliers draftee) Milan Macvan signed a two-year contract with Galatasaray." (Djordje Matic)
"NBA opening night: Wizards @ Cleveland, Boston @ Miami, Dallas @ Lakers." (Marc J. Spears)
Notes
Miles is a decent add for small-forward depth, but he's nothing to get excited about…Alonzo seems to be getting a lot less interest than expected, and the Cavs are fine with that…Some good Cleveland basketball thoughts from Andrew at WFNY…Tolliver is still young and talented, and another decent PF could be great for the Cavs…Barbosa could provide a spark off the bench, and the roster isn't full yet…Milan Macvan was drafted with the 54th pick in 2011, with low expectations abound…Wizards vs. Cavs could be fun, Kyrie and Waiters vs. Beal and Wall should be a matchup to watch for years.