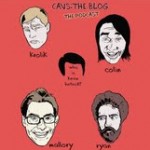 I'm drenched in sweat.  It's humid and New York City smells terrible.  I leave for work and instead of seeing families walking to school I see unhappy business men and women dressed in clothing far too constricting for the weather.  Also, I can't find an NBA game for the life of me.
That's right folks, it's the SUMMER!  Sure, the NBA isn't in season, but that doesn't mean John, Kevin and I can't chat about all that's going on.
On this issue of Cavs: The Podcast Kevin Hetrick, John Krolik, and I discuss all the offseason fun, including the 2012 NBA Draft, the potential for an Andrew Bynum Trade, Alonzo Gee, and the Olympics.
Heads up, I had some technical difficulties at the beginning.  Apologies.
As always, our podcasts can be found on iTunes at http://itunes.apple.com/us/podcast/cavs-the-podcast/id528149843 (there's a slight delay here)
Or at soundcloud at http://soundcloud.com/cavstheblog
Enjoy!