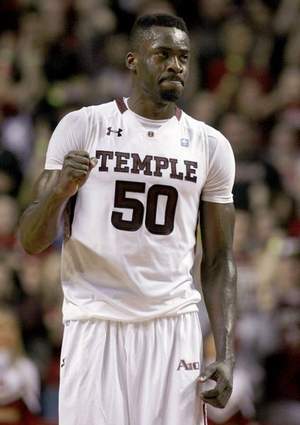 Maybe the readers can provide an answer.
After Eric played 63 minutes for the Cavs Summer League team, Byron Scott said to the Akron Beacon Journal: "He has to look at himself as Ibaka, a guy that came in who was raw, but defensively was a great help defender and a great one-on-one defender, then your offensive game kind of comes.  That's how Ibaka has developed and I think he [Eric] has the same type of potential. It's a hell of a comparison, and it's a good comparison because I think with his athleticism and the way he jumps and blocks shots, he can be on that level.  I don't know if he can get to where Ibaka is because Ibaka is pretty damn good, but he can be somewhere near that level."
A quick glance of some handy, dandy references tells me that Ibaka is a 22-year-old member of the NBA all-defense first-team.  Our diamond-in-the-rough is a 24 year old, that through four years at Temple never warranted a write-up from draftexpress or ESPN.
The son of a Nigerian soccer player, a brief search turned up at least one more decent article on Eric, via the Detroit Free Press.   His work on the boards improved every year with the Owls, and he finished his college career as both a high quality rebounder and shot blocker.  Turnover prone, he also struggled with free throws to the tune of 55% makes.
What do you think, Cavs fans?  Had B-Scott been staying out to late in Vegas, or can Micheal Eric play?