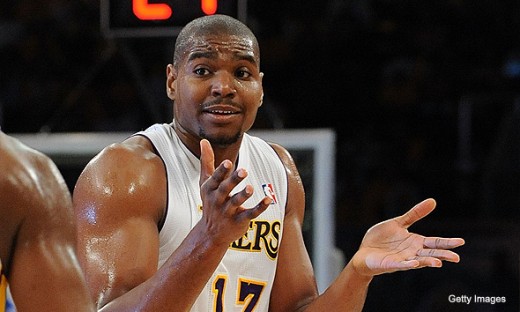 So, I've been toying around with the NBA Trade Machine over on ESPN for the past couple of hours trying to figure out what a Lakers/Magic/Cavs deal would look like, which has been edifying in a couple of ways that I'll get to in a minute. First, let me present to you a handful of trades that work:
Lakers get: Dwight Howard and Jason Richardson
Magic get:  Andy Varejao, Luke Walton, Josh McRoberts, Omri Casspi, Christian Eyenga, and Cavs' 2013 first-rounder
Cavs get: Andrew Bynum, Quentin Richardson, Glen Davis, and Chris Duhon
The Cavs get their man (Bynum), the Lakers get theirs (Howard), and the Magic get a clean slate by offloading nearly all their bad contracts for expiring ones. They'll be terrible next year and have a decent shot at the number one pick, and they will have tens of millions of dollars of cap space once the 2012-13 season ends. The one thing that doesn't make much sense to me is why the Magic would want a thirty year-old defensive big man, but according to Ric Bucher, the framework of the deal involves Varejao-to-Orlando, so I'll just assume they covet him for whatever reason.
Jason Richardson is overpaid, but it's not like the Lakers can sign any more free agents, so that point is moot. He played poorly last season (shot 40.8% from the field; he's a career 44.1% shooter), but he's only 31 and could be a good bench scorer, especially if he gets a steady diet of open threes when defenses collapse on Howard and/or Gasol. He would also be sharing some court time with Steve Nash, which never hurts one's offensive game.
Glen Davis shouldn't make upwards of six million dollars a year, but he would be similarly useful for the Cavs, who don't have a PF who can knock down an open 13-footer. Chris Duhon and Quentin Richardson are dead weight, but that's the cost of doing business.
You could also sell me on a variant of this trade where the Cavs also give up the Heat/Lakers pick they have in the 2013 draft. If they're going to roll the dice on a super-talented injury risk with attitude issues, it's not like the 24th pick in the 2013 draft should be the stumbling point.
(To anyone saying, "Why wouldn't LA make a play for Andy V?": it's a cap thing. The Lakers are paying Kobe/Gasol/Nash a combined $56 million next season and are well over the soft cap, so they can't take on Howard and Varejao without moving Gasol.)
Lakers get: Howard and Richardson
Magic get: Varejao, Walton, Boobie Gibson, McRoberts, Casspi, and Eyenga
Cavs get: Bynum, Hedo Turkoglu, Duhon, and Davis
By offloading that egregious Hedo deal that pays him $11.4 mil and $12.2 mil in 2012-13 and 2013-14, respectively, the Magic get rid of their worst contract. They also dump Davis, J-Rich, and Duhon. The only bad contract they keep is Quentin Richardson's, which pays him a little under $6 mil over the next two seasons. Every player they acquire has either a team option for next year or is off the books entirely. I didn't include a draft pick in this scenario because the Magic shed a ton of salary, but if the Cavs were to throw in a first-rounder, I wouldn't lose sleep over it.
Lakers get: Howard and Turkoglu
Magic get: Varejao, Walton, Gibson, McRoberts, Casspi, Eyenga, and Andrew Goudelock
Cavs get: Bynum, Davis, J. Richardson, Steve Blake, Q. Richardson, and Duhon
Again, a hunk of expirings for Orlando (give or take a draft pick), but this time Turkoglu goes to the Lakers and the Cavs absorb a cornucopia of bad contracts. The difference between the abominable contract amalgam of Q Richardson, Duhon, and Blake and the singular abominable contract of Turkoglu is negligible, since both Quentin Duhon-Blake and Turkoglu make about the same amount of money and their contracts expire in two years. (Technically, Turk's got a player option for the 2013-14 season, but who wouldn't cash in a season of mediocre basketball for $12.2 mil?) But the J-Rich and Davis deals run for the next three years, paying those guys a combined $38 million over that time period. This isn't the worst thing in the world, because those guys are legitimate NBA players, and it's not like the Cavs have a phenomenal bench, but if the Magic ask for a pick in this scenario, they had better ask the Lakers, because the Cavs are going to be tied down with salaries and will need their draft picks to help fill out their roster over the next couple of years.
Lakers get: Howard, Turkoglu, Richardson, and Duhon
Magic get: Varejao, Tristan Thompson, McRoberts, Eyenga, and Andrew Goudelock
Cavs get: Bynum, Metta World Peace, and Steve Blake
so much depends
upon
long tristan
thompson
dazed in wine
golden
beside the black
bench
(But seriously, your opinion of this trade revolves entirely around whether or not you like Tristan Thompson. Also, I apologize to William Carlos Williams. Remember when you used the phrase "penniless rumsoak," and I swooned? I'm so sorry.)
What Does It All Mean?
Nothing right now. We have no idea how close this thing is to fruition or who the principals are outside of—again, I'm leaning on Bucher here—Howard, Bynum, and Varejao. What's clear is: a.) the Magic want to get rid of some bad contracts, b.) the Lakers are aggressively pursuing Howard, and c.) the Cavs have lots of cap space and expiring contracts. The trade, if it happens, will look something like the ones mentioned above. These deals and very similar variants are the only ones that work cap-wise unless you start getting crazy and throwing Gasol into the mix.
A bit of experimenting leads me to this conclusion: the Cavs' cap/expiring contract situation makes them an ideal facilitator for this sort of trade, and they can pretty much dictate their terms. While the Magic are desperate to get a fresh start out of the impending departure of their best player and the Lakers are fervently pursuing Howard, the Cavs can be dispassionate about this deal. If they don't want to take an additional bad contract or give up another first-rounder, they can always pass. They're not desperate to acquire Bynum, and, if the swap falls apart, they can return to their original plan of building through the draft.
What throws a wrench in this whole thing is the presence of the Houston Rockets, who have a bunch of young players and picks. I'm mildly perplexed about why they think Bynum would put them over the top. Bynum-Irving is a lot more appetizing prospect than Bynum-Lin, but then, they're in Houston, which is a more desirable free agent destination than Cleveland. Regardless, they're very capable of facilitating a Howard's departure for LA, and they would be more able than the Cavs to provide the Magic with decent draft picks (they shipped out Kyle Lowry for a Toronto first-rounder) and recent draftees (Terrence Jones, Jeremy Lamb, and Royce White).
No matter what happens or doesn't happen on the Bynum-to-Cleveland trade front, this is the first great example of what valuing cap flexibility and acquiring tradable assets can do for a rebuilding team. By carefully managing the cap and his assets over the past couple of years, Chris Grant has put the Cavs in a situation where they might be able to acquire an excellent player because they're one of the only teams in the league that can help the Lakers land Howard and the Magic push the reset button on their franchise.