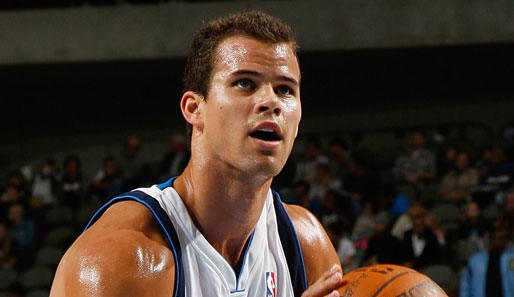 The Cavaliers could wind up with unrestricted free agent power forward Kris Humphriesas the third team in a blockbuster deal that would send disgruntled Orlando center Dwight Howard to the Brooklyn Nets, who reportedly have been his preferred team all along.

…

One of the teams is going to have to give the Cavs something—a first-round draft choice or, possibly, Nets swingman MarShon Brooks—to facilitate this deal. In addition, because Humphries is an unrestricted free agent, the Cavs could have just signed him if they really wanted him, so it's possible an additional deal could be in the works.
Schmitt-Boyer thinks it's "50-50″ as to whether this deal will happen. You can read the full details by clicking the link. Humphries is a fine bench player, but as Schmitt-Boyer points out, he's an unrestricted free agent, so he would obviously be part of some salary cap trickeration by the Nets. The real prize would have to be one or two first-rounders from either the Nets or Magic (the Nets, most likely). The deal isn't really concrete enough for me to have an opinion on it, but it's the most interesting Cavs news since the draft.
UPDATE: Via Adrian Wojnarowski:
In the proposed deal, Howard, Jason Richardson and Earl Clark would be sent to Brooklyn, and the Magic would receive the Nets' Brook Lopez, Damion James, Sheldon Williams, Cleveland's Luke Walton and three future first-round picks, sources said. Cleveland would receive Orlando's Quentin Richardson, Brooklyn's Sundiata Gaines, Kris Humphries (on a one-year guaranteed deal), a first-round pick and $3 million from the Nets. Brooklyn also would send Brooks to a fourth team to get them an additional first-round pick to send to the Magic.
I'm fine with this. Humphries on a one-year deal is much more appealing than Humphries on a four-year deal, and Richardson has two years and nearly six million left on his deal. (The second year of that deal is contingent on Q picking up his player option for the 2013-14 season.) The Cavs could pretty easily buy him out if they didn't want him. And Cleveland is the only city in the world that even remembers who Sundiata Gaines is.