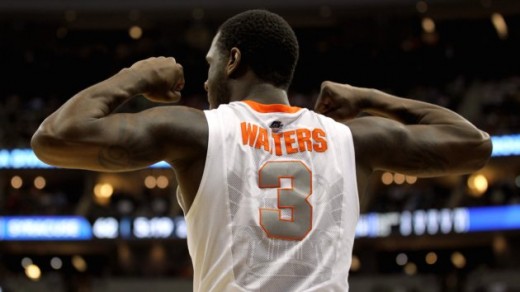 The Cleveland Cavaliers' intrigue with selecting Syracuse guard Dion Waiters with the fourth overall pick in Thursday's NBA Draft has gathered significant momentum, league sources told Yahoo! Sports.

The Cavaliers haven't been able to get Waiters to visit Cleveland for a workout and meeting with officials, but it hasn't extinguished management's ever-evolving fascination with choosing Waiters at No. 4 – especially if the Cavaliers are unable to secure Florida guard Bradley Beal.
I have no idea what to believe anymore. Christ Grant and co. have done a great job of completely confounding everyone as to who the Cavs like most after Davis and Beal. (I'm 90% sure Beal is second on their big board.) The problem with that is it renders our pre-draft speculation especially useless. We'll keep you guys posted on any rumors and soft news, but I have a feeling we won't know what the Cavaliers are doing in this draft (or the hours preceding it) until the moment they actually do it.
UPDATE from our colleague Scott Sargent over at WFNY:
Chad Ford's most recently updated mock has the #Cavs selecting Michael Kidd-Gilchrist at No.4, desiring 2nd lotto pick to nab Waiters/Ross.
This makes me feel better. And it's smart. If (and for the sake of not being presumptuous, at this juncture, it's still a very big "if" as to whether or not MKG will even be available at four) the Cavs draft MKG, they could really use a shooting guard who can score. Let's hope Chris Grant is craft enough to pull off this kind of move.