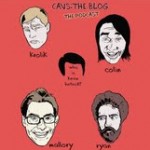 If you haven't, go ahead and read my Brews and Bruises column below.
Now that you've read the column, go ahead and download our newest podcast!
You can find it on itunes at: http://itunes.apple.com/us/podcast/cavs-the-podcast/id528149843
And at soundcloud at: http://soundcloud.com/cavstheblog/0009-the-draft-pt-2
In this podcast Kevin and I talk his best and worst case scenarios, potential trades, and some other fun draft topics.  Enjoy!