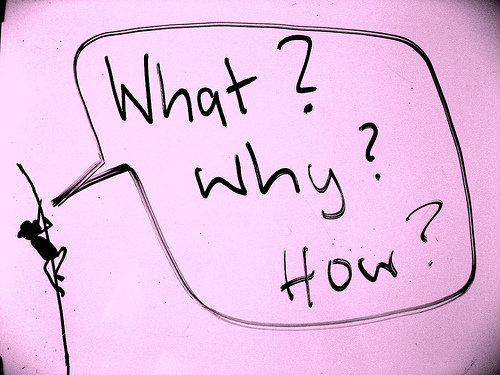 In the wake of this draft we're trying to make sense of things. Kevin and Colin are hanging out in an Edenic garden/irradiated wasteland sitting on giant, colorful toadstools/the carcasses of loved ones discussing the implications of whatever the hell happened tonight.
Kevin: Obviously this was not a "best-case" scenario, but I'm going to start with a glass-mostly-full take.  How did the Cavs respond to missing out on their two favorites: Michael Kidd-Gilchrist and Brad Beal?  They answer the question: what would a Russell Westbrook and Kyrie Irving backcourt look like?
In May 2008, the UCLA sophomore was projected as a non-lottery pick.  As an uber-athletic combo-guard, playing next to stud freshman Kevin Love, and upperclass stalwarts Darren Collison and Luc Richard Mbah a' Moute, his college playing days passed by as a high quality role player.  In his second NCAA season, he averaged 13 points, 4, rebounds and 4 assists on 47 / 34 / 71 shooting.  Draftexpress listed his "best case" as Leandro Barbosa.  Mainly lauded for his athleticism and defensive intensity, questions existed about his position and offensive polish.  But then, a funny thing happened.  He started creeping up draft boards, by late June reaching the mid-lottery on most mock drafts.   On draft day, something CRAZY happened; "GM Sam Presti did a solid job to resist the temptation to add (a more highly regarded player) and take a player with considerably more upside at the fourth pick in Russell Westbrook".  The local media was surprised, as everyone thought the team may trade up or down.  Most were left scratching their heads.
Well, you see where this is going.  Four years later, it's deja vu, except Cleveland shocks their fans by selecting an athletic combo-guard at #4.
And really, the two players have some similarities.  Admittedly, Westbrook was young for a sophomore, nearly one year younger than Waiters on draft day.  But both measured 6' – 2" with a 6' – 7" wingspan, except Waiters packs on thirty extra pounds.  Westbrook is more athletic.  Per 40 minutes pace adjusted, the 16, 5 & 5 of Westbrook and the 21, 4 and 4 of Waiters match-up favorably for Waiters.  Waiters's 26 PER and 116 offensive rating with 26 usage thrashes Westbrook's collegiate numbers of 19, 110, and 23.  Both players gained praise for their defense, while carrying offensive question marks.
What are your thoughts?  Is this a disaster?  What do you think of my best case scenario: Kyrie and Russ Westbrook?  Is it feasible from Waiters?  How does that work on the basketball court?
Colin: I'm from the Syracuse area, so I'm somewhat familiar with Waiters. It's true: he's Westbrook-y. That's the comparison people make, at least. (You should know that the Syracuse basketball team is pretty much the main draw sports-wise in central New York; they tend to overrate their own out of love and boredom.) I hesitate to compare anyone to Westbrook because he's a.) one of the very best players in the NBA, and b.) probably a singular talent. But Waiters is strong, fast, good with the ball in his hands, and a streaky shooter. He can defend when he wants to because he has great lateral quickness and active hands. I understand the pick, I think. He might have the highest ceiling of any player not picked in front of him. He's a bit of a jerk, and has some work ethic issues; if he can get his head right, we'll see what he can do.
How does he fit in next to Irving? That's the tough question. Obviously, when Westbrook (and we're really using "Westbrook" here under erasure) was brought into the OKC organization, the idea was to make him into a point guard. What would have happened if he remained at his more natural position? That's a rabbit hole I can't see far enough down, really. The pick isn't a disaster. I really don't think that. It's just that Chris Grant has put his zeppelin-sized testicles on the table, and proclaimed "Come at me, bro! I stake my reputation on Dion Waiters being a very good player." We will see, CG. I respect your sense of daring.
Kevin: Fair enough. To a large extent, the point I was trying to make is: Westbrook was a surprise.  One month before the draft, people weren't saying "Russ Westbrook will be a top-ten NBA player". A large majority weren't saying it on draft day.  Also, there is a decent amount of similarity in them as players, as far as their skills, draft trajectory, etc.
You call him a "bit of a jerk." I've read he thinks of himself as the best player on the court. That could be an issue next to Kyrie, who we all plan on being the best player on the court. But really, isn't that an interesting dynamic of the Westbrook/Durant teaming?
Obviously Waiters will end up going the shooting guard route of a "combo guard". I think an aggressive, scoring guard can work well next to Kyrie, and is kind of what was hoped for in Beal. You could even stagger Waiters off the bench, like a Harden, to keep a strong scoring threat on the court at all times. He's a pretty well-rounded offensive player; in addition to his aggressive, attacking nature, his three-point shooting percentage finished better than fellow sophomore Harrison Barnes and the next-Ray Allen. The Cavs definitely got faster and more skilled today than they were yesterday.  Even defensively, Avery Bradley only stands 6′ – 2″ and wasn't he a lock-down two-guard revelation this year?  I'm not sure Waiters's size is completely prohibitive, and think Irving and Waiters form an intriguing next-decade backcourt.
Definitely props to Chris Grant. He went all-in. Speaking of, what do you think of the Tyler Zeller trade?
Colin: I should clarify: I don't consider Waiters's confidence to be a problem. I'm glad he thinks he's better than he is. I think his jerk-ness is wrapped up in the fact that he sometimes doesn't work hard. SU coach Jim Boheim called him the most talented guard he has ever recruited (high praise, though not quite as lofty as it sounds; it's not like SU is a guard factory), but he sat the bench his freshman year, then threatened to transfer. Boheim essentially called his bluff, saying, "Fine, transfer. Maybe a change of scenery will be good for you." After this incident, Waiters settled down and started to work harder in practice, care about defense more, etc. The work ethic thing is what bothers me. I like his arrogance. I like players with a little bit of "eff you" in them; the Cavs are lacking in that department.
Tyler Zeller's a nice player. I have family that teaches at UNC (the Cavs really picked players in my wheelhouse tonight), so I've watched Zeller somewhat regularly for the four years he's been at Chapel Hill. To sum him up in terms of tangible skills: he can post up a little bit; he runs well; he's got pretty good hands and a soft touch around the basket. More crucially, I think he's a good fit next to Tristan Thompson because he can knock down an open 14-footer. He'll help the Cavs space the floor a little on offense; the paint won't be so clogged for Irving and Waiters. He's a little light, muscle-wise. He'll get pushed around by some of the bigger centers in the league. But he's a solid "5". I think the Cavs overpaid for him in terms of value–there were  guys like Moultrie, PJ3, Barton, etc. available at the end of the first round and they lost the opportunity to take fliers on guys early in the second round–but Zeller will compliment TT pretty well moving forward. And overpaying to get the guys they like seems to be Chris Grant's philosophy when it comes to the draft. Which is fine; he just better damn well be right about who he's acquiring.
Kevin: It sounds like Waiters turned a corner during his freshman season. This year, he was the best player on one of the five best teams in college basketball, and seems to have willingly accepted a back-up role. Certainly, he could have acted out much worse.  I can't speak specifically to his work ethic, but his defense was strong this year and to me, that's a solid indicator of motor, intangibles, etc.
On to Zeller; my final "favorite" scenario this morning was Waiters and Zeller at 6 and 11. Obviously the day played out as 4 and 17 instead, but the Tar Heel seven-footer is a solid addition to the team. He did not shoot much from the perimeter at UNC, but did make 81% of his free throws, and in limited attempts, he was actually the 4th best outside shooter of 26 big men that Draft Express looked at. Pairing him with Andy and TT, could look really good. Maybe shades of Zydrunas.
Zeller has always been praised for how quickly he runs the court, and his "measurables" came in strong. Of 44 centers, he was 3rd in the agility drill, 8th in speed and 9th in vertical leap. I don't love combine measurements, but when they match up with solid production that's always an additional level of assuredness that a player can survive in the NBA. So in summary, today was ballpark of one of the ideal draft day scenarios I laid out this morning. Pretty hard for me to complain.
I agree there were a lot of likable players left at 24, 33 and 34. Will passing up Perry Jones III, Doron Lamb and Jae Crowder look regrettable in a few years when compared to Zeller? The NBA is definitely a game of quality over quantity. Cavs management accumulated all these draft picks to make moves like this.
Colin: We should probably address the "value" aspect of the draft. I'm actually one of the people who thinks value is overrated in the draft: get the guys you like, and if you pick them a few slots too high, so be it. But this seems like an extreme example of that. Was Waiters going before seven? I can only assume Chris Grant worked the phones to trade down and couldn't. And was Zeller worth sacrificing the opportunity to take late first-round/early second-round fliers? Your answer can totally be "yes," but I wonder what your thoughts are on that.
Kevin: I really liked the depth of this draft and was excited about the potential of the 24, 33 and 34 picks.  I had Zeller ranked top-ten though; so personally, at 17, the value of those later picks is pretty appropriate for him.
It's hard to answer the question on draft day. Does PJ3 make Kevin Durant expendable?  That's a joke, but you know what I'm saying.  Some really intriguing talents existed at the later picks, but are they just exciting draft day thoughts, or real NBA players?  When the rumor was #4 and #24 for #2, I took the tenet that Chris Grant needs to get his guys.  It appears that's what the organization did, and it matches up well with "my guys", so I'm ready to see what 2012 – 2013 brings.
With Waiters, yeah, I assume no other team wanted to trade up, or maybe Cleveland thought Portland really liked him at #6.  If there were other options to get DW; surely those routes were explored. I enjoyed the back-and-forth, but it's about my bed time. Remember, I'm an old man.
Next year, Cleveland can suit up Irving – Waiters – Gee – Varejao – Zeller with Gibson, Casspi and Thompson off the bench.  Add a back-up point guard, and that's a fun, young team.  Not too small, with decent floor spacing, ball-handling and defense.  They still have a lot of cap flexibility and plenty of draft picks moving forward.
This draft night did not work out like anyone hoped for, but ultimately, I think it's all right.
Colin: As old man Kevin dozes—I begrudge him nothing; he has children and a wife to attend to; I'm just a responsibility-less dude sitting on my couch with a fuzzy black cat asleep on my foot—I relent: I'm okay with this? That's the proper inflection, I think. On a day when dreams were stepped on like an Edokko beneath Godzilla's reptilian sole, I think the Cavs made the best of it. I assume there were no reasonable options in terms of moving down, and that they decided they liked Waiters a lot and so drafted him where they knew he was theirs.
For the sake of pointing out something that feels obvious to me: Zeller is an admission that the front office botched Valanciunas pick, no? We flubbed on the last talented center that came our way, so we're going to make sure we land a decent one in this draft. That's a great strategy, if not the ideal one. It is better to acknowledge your mistakes while you can still remedy them. Tristan Thompson and Tyler Zeller might develop into an above-average frontcourt. Zeller's set of skills will allow Thompson to focus on rebounding, shot-blocking (still very much a work in progress), and finding baskets by cutting into the paint. Now, Tyler, if you could hit the weight room a little bit, just so you don't embarrass yourself against Roy Hibbert, that'd be great.
Final point: the Cavs didn't move Varejao for a draft pick/picks. He was involved in a lot of trade rumors both before and during the draft; I'm pretty positive, from what I've heard, that he was dangled to various teams. He's a great guy, and one of my favorite Cavaliers, but he's more valuable now than he'll ever be. He will be 30 when the season starts. What are the Cavs doing with him, exactly? Will he be around after next season's trade deadline? I thought he was going to be gone six to eight months ago, which shows what I know. Perhaps they conceive of him as the perfect mentor the young big men they've acquired. Or perhaps he could leave tomorrow. Just some food for thought.