In the series Brews and Bruises: Life as a Drinking Cavs Fan, I'll playfully explore the mixture of pain associated with Cavalier fandom and the glory associated with drinking.  As always, drink responsibly (and legally, ya kids!)
I have an impending sense of doom in my stomach.  Trust me, I already tried to use the toilet; it didn't help.  This ache has been growing for weeks and weeks and soon it will finally come to a head.  At 7PM tomorrow the entire future of our beloved franchise will rest in the hands of former University of San Diego psychology major Chris Grant.  Don't get me wrong, I love the guy like a brother and trust his every move, but remember that at some point people honestly believed that Isiah Thomas had a remote idea of what he was doing.  The point is you never know, and this is the moment where push will ultimately come to shove.  Unless we suck again next year, then we'll give it another heave.
With so much riding on a mere number of minutes, there seems to me that there is only one answer with how to successfully survive the tumoltuous night: drink.
"But Mallory," you ask with the most earnest inflection imaginable. "What alcoholic beverages must I consume to correctly reflect the gravity and brevity of the moment?"
The answer, my friends, is simple.  Beer.
Now, what you drink should, as always, be dependent on the situation.  So, without further ado, I present to you my handy guide to drinking the NBA draft:
First Round:
At 7PM EST The Prudential Center (hahahahahahahahaha) will come alive once more (seriously, HAHAHAHAHA) as Anthony Davis raises his one eyebrow, with the rest of his body, and approaches the podium as the number one pick by the Cleveland Cava…The New Orleans Hornets.
This comes as a surprise to no one, so we're not letting Davis dictate squat (He'd be Dogfish Head 120 minute IPA, by the way).  Instead, lets let our first pick dictate our first round.  Below you will find a libation for each potential selection
Bradley Beal, Sessions Lager – Full Sail Brewing Company, Hood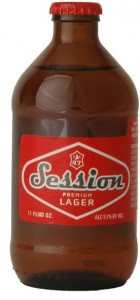 River, OR: I know, I know you're all expecting me to play off the fact that he was raised in Missouri (Budweiser anyone?) but come now, my friends.  Our palates are FAR too sophisticated for liquid urine, so instead I chose something with a little more oomph.  Full Sail's session lager is mild, clean, sweet, and predictable—a perfect companion to the steady Beal.  Although, in the right moment, it'll show flashes of excellence, it's generally a beer that is best judged over a long period of time.  Its track record will show that, on the whole, it's generally very fulfilling and easy to consume.  While it has many excellent features and no obvious flaws to its character, many consider the packaging of this Sessions Lager to be its pitfall: who wants to be seen carrying such a short bottle?
Michael Kidd-Gilchrist, HopDevil IPA, Victory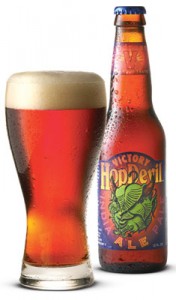 Brewing Company, Downington, PA:  Man does this beer work hard.  Complex without being overbearing, drinkable but with just enough hoppy bitterness to make it earn your respect.  By all accounts, this is an outstanding beer.  So why the heck don't I keep this thing stocked in my fridge?  Because it never seems to satisfy my craving.  When I have an itch for a delicious beer that'll hit the mark just right, I never think of the HopDevil.  Compared to the others on this list, Victory's brew is less refined, less prime-time ready.  Still, every time I take a sip I remember that this beer holds all the potential in the world, so long as I'm willing to let my palate find it.
(Let me take this moment to say that, as far as I know, not one of the guys being drafted has a big head.  They might have good retention, though.)
Thomas Robinson, Edmund Fitzgerald – Great Lakes Brewing Company, Cleveland, OH:  Like Robinson, the Edmund Fitzgerald a big,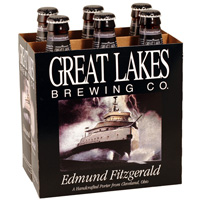 strong, bruiser of a beer.  For a porter, its middle is surprisingly strong and complex, sweet notes of chocolate and coffee bitterness permeate its flavor.  It's predictable, yes, but always delicious and will never leave you feeling unsatisfied.  It may not be for everyone, but to many this beer is one of the best out there.  If you look close enough, you know it has the ability to leave a lasting impression.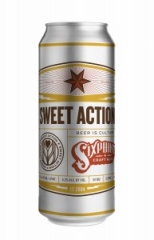 Harrison Barnes, Sweet Action – Sixpoint brewery, Brooklyn, NY:  A good, steady brew.  Its arsenal is balanced and varied; it's a spicy beer with quite a bit of hops AND malt.  Still, it's a beer that can be consumed by anyone and everyone – it's inoffensive to even the most resistant beer drinkers, and a safe choice when you're not sure what to go with.  If only this beer had a stronger finish, it would probably be perfect.  Every time I sip this baby I think to myself Dang!, in the right situation this would really work. Just make sure you follow it up with something a little more exciting, or you'll likely get bored.
Andre Drummond – Forget the beer, I need a whiskey.
Any of the above beers should more than do the trick for our first pick.  As you finish up beer number 1 chances are a certain someone with a Masters in Educational Leadership (note: Chris Grant, our GM)  will be approaching his second shot in the dark.  Yep, ladies and gents (mostly gents), it's time for pick number 24.
Round Two
Chances are with the first pick we've taken someone small and fiery.  That's why I, your esteemed guide on this journey of brewing perfection, have chosen for you two beers of equal gusto, either of which would make an excellent true center on our Cavs team, particularly with the right coaching and training:
Tripel Horse – River horse Brewing Co, Lambertville, NJ: This beer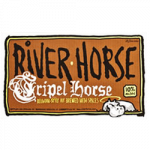 packs a serious whollup.  Weighing in at 10% ABV, it can knock you on your ass faster than you can say Shaq.  And it's more refined than you'd imagine – it's heavy on the malt, yes, but it's spicy and complicated.  If you want something strong, this is the beer for you.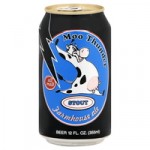 Moo Thunder Stout – Butternuts Beer & Ales,Garrattsville, NY: Don't let the name fool you, this beer rocks.  For its cheap sticker price, It's sweet and drinkable, but with some amazing depth and quality.  I regularly have this stocked in my fridge – it's reliable and satisfying.  What more can you ask for in a beer?  (On that note, I miss Z.)
Round Three
By now, you're hopefully a little buzzed, particularly if you decided to choose that River Horse, so it's time to slow things down a bit.  Luckily, it's time for a beer/player that may not carry as much impact (read: have such a high alcohol content).
The second round of the NBA draft is the perfect time to either take a complete shot in the dark or to pick a guy who has some established, known qualities of value.  I'm a big fan of the latter.  As such, I've chosen to honor every Cav's fan's favorite second round pick (and favorite Luke).
That's right, loyal readers.  In honor of Luke "Whitest Man Alive" Harangody, I give you: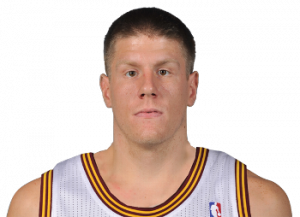 Allagash White – Allagash Brewing Company, Portland, ME:  What comes to mind when you think of Luke Harangody?  The answer is obvious: Banana and Clove.  Allagash White is the gold standard for American made wheat beers.  It's sweet, delicious, and it'll never leave you feeling blue.
The end is nigh, my friends.  We will soon know all the answers. Who are we drafting?  Will we make a trade?  What hair product does Chris Grant use to keep his hair so thick and luscious? So sit back, relax, and enjoy.  If worst comes to worst (or best comes to best) we always have our booze.