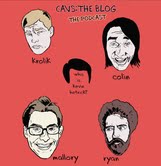 IT'S HERE!
iTunes link: http://itunes.apple.com/us/podcast/cavs-the-podcast/id528149843 (it'll take some time for the podcast to appear on here)
SoundCloud link: http://soundcloud.com/cavstheblog/0008-the-draft-pt-1
The eagerly anticipated draft podcast has finally arrived (sorry it took so long!)
It's slightly dated, as we recorded it on Monday (we talk about a potential trade for Okafor) but I think we cover some interested ground, especially on the topics of the fourth pick, potential trades, and Jared Sullinger.
I'm pretty sure we're going to record a second podcast the night or two before the draft, and we'll likely follow that up with a post-draft podcast too.
Enjoy!