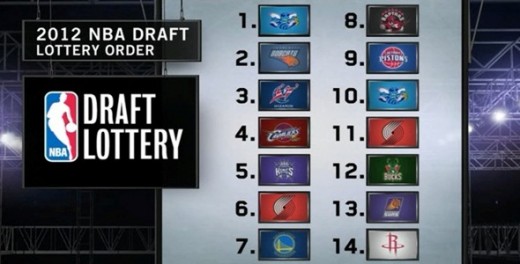 From Joe Kotoch over at Pro Basketball Draft:
Trade talks among the teams in the top-10 seems to be heating up.  The Cavaliers have approached Charlotte, New Orleans, and Golden State about acquiring their lottery picks.  While it is common for teams to talk and gauge interest about potential deals the Cavs have been more aggressive.  Sources say the Cavs have expressed the willingness to absorb salary in addition to trading the 24th pick.  A potential stumbling block with New Orleans is the Hornets insistence thus far to have Trevor Ariza and Emeka Okafor included in a deal for the 10th pick.  According to one league executive the Cavs could get a deal done with the Warriors if they trade Anderson Varejao and 24 but that the Cavs are unwilling to pull the trigger on that deal right now.

On the subject of the Cavs, PBD reported that the Cavs have Andre Drummond ranked ahead of Harrison Barnes on their current draft board, which is still subject to change.  Drummond's athletic abilities and size are extremely unique and has Grant and his assistants intrigued.  Wednesday is a huge day for Drummond as he will be working out in Cleveland.
It's not like we're dealing in 100% verifiable facts here, but these rumors are intriguing. Were I in charge of the Cavs front office, I'd strongly consider flipping Varejao and the 24th pick for the seventh selection. It's a might steep, but it would give them the opportunity to draft both Beal/Drummond and Barnes/Waiters/Lamb/Rapidly Rising Draft Prospect X.
I've heard conflicting reports on this, but: both the Ariza and Okafor contracts and a late first-rounder? That's a bit rich, right? I'm not wholly opposed to taking on those contracts, but I wonder if the Cavs could package one or both of their (very early) second-rounders in exchange for the 10th pick. Because they would already be affording the Hornets a ton of cap relief.
Bear with me for a second while I label the Warriors trade "Scenario A" and the Hornets trade "Scenario B" and play a wishy-washy game of "Benefits and Drawbacks."
In Scenario A, the Cavs finish the post-LeBron demolition by dealing their second-best player. They'll be super young, have tons of a cap space, and will probably be one of the three to seven worst teams in the league again next year. This is good or bad depending on how long you think the Cavs should wait to contend for a playoff spot. I think the team needs to take their medicine for one more season before they can hope to do much of anything going forward. They also get their pick of the non-Beal and MKG wings and guards. If they, for example, really love Lamb and want to (virtually) guarantee they'll get him, Scenario A's worth strong consideration.
Scenario B makes the Cavs immediately better than Scenario A and ties up their cap for the next couple of seasons. Ariza makes nearly $15 mil over the next couple seasons. (He has a player options for the 2013-14 season, which he'll almost definitely pick up.) Okafor makes $28 mil over the next two years. My problem with this deal is that it ties up the Cavs' cap for a couple years (not a major problem) while also making them pretty good (in the long run, perhaps a major problem). The Cavs would likely, for the first time in two years, have six to eight legitimate NBA players on their roster. That's probably a playoff team in the East, which means the Cavs would have to absolutely nail this draft because their pick next season would land in the late-ish teens.
I don't see Scenario B happening without some significant tweaks to the rumored deal. As described above in the block-quote, it's pretty un-Grantian in its philosophy. There is no practical difference between trading for veterans with bloated contracts and overpaying free agents, and I don't think the organization places much value on getting into the playoffs next season with a starting lineup that has three guys in their late 20s/early 30s.
And there's perhaps a Scenario C: the Cavs swap the fourth and 24th picks for the Blazers' pair of lottery selections, which, if they really like Beal and Drummond, doesn't make much sense, but if they have a cluster of guys on their draft board around the four to eight range and are willing to live with whoever falls to them at the sixth spot, it's a smart deal.
Obviously, there are plenty of variations on these hypothetical scenarios. Maybe New Orleans only wants their trade partner to take on Okafor's contract. I keep hearing about this Blazers deal, but it's not like we have a Marc Stein report that it's definitely on the table. These rumors are indicative, however, of the fact Chris Grant has spent a lot of time on the phone over the last few weeks. This is encouraging news because I think the Cavs will have to get creative to get the most out of this draft.
UPDATE: Well, Scenario B is off the table, I guess. Okafor and Ariza are headed to DC.
OPINION UPDATE: I guess I'll also add that this probably means the chances of the Wiz taking Beal just went up considerably. And that if MKG falls to the Cavs and they draft Barnes, I will punch a hole in this blog.