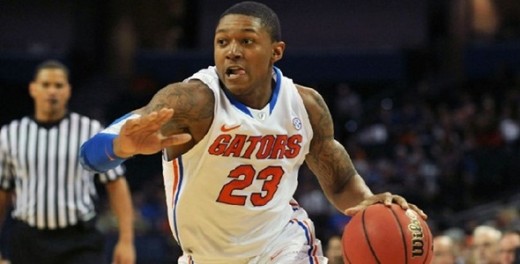 From Kurt Helin over at Pro Basketball Talk:
Teams have fallen for Florida shooting guard Bradley Beal and, while he has only worked out for the top four teams in the draft that will be enough. He is not falling past the Cavaliers at No. 4,reports Hoopsworld's Alex Kennedy (who provides a lot of the rumors on this page), but frankly he may not get that far. Washington at No. 3 likes him also.
You're going to want to click on the link, because Helin's linked to a lot of relevant stuff, but I also love me some Brad Beal. I was gchatting about the draft with sometimes-Blog-contributor Tom Pestak yesterday, and one of the things that came up was whether or not the Cavs should trade down. I like that rumored four/24-for-six/11 Blazers swap (if it's even really a thing; it's not like any of these reports have been confirmed) because I like the idea of a painfully talent-deficient Cavs team picking up what should be, if they do their homework, two future starters. But if Beal is there at four, I think I'd rather the Cavs take him and hope they can land a rotation player with the 24th pick.
But that's my underinformed take. The fun thing about the draft is there's no real right or wrong answers until three years afterward; you kind of forget what you were saying at the  time. Well, unless you write things on the internet and then people can dredge up old quotes and make you look dumb. (I've said too much.)
So: Beal at four? Barnes and PJ3 at six and 11? Offer Jordan partial ownership of Dan Gilbert's new casino for the number two? Bueller?