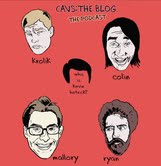 I'm very proud and excited to present the 7th episode of Cavs: The Podcast, featuring the one and only Scott Raab.  In this episode Mr. Raab and I spend some time discussing The Cavs, Cleveland sports, and the playoffs.
In addition, I'm excited to give you this…
http://itunes.apple.com/us/podcast/cavs-the-podcast/id528149843
That being the link to the podcast's iTunes subscription.  Check it out, subscribe, and enjoy.  It does take a few days to upload, so, as always, the podcast can be found on our soundcloud at: http://soundcloud.com/cavstheblog
Enjoy!