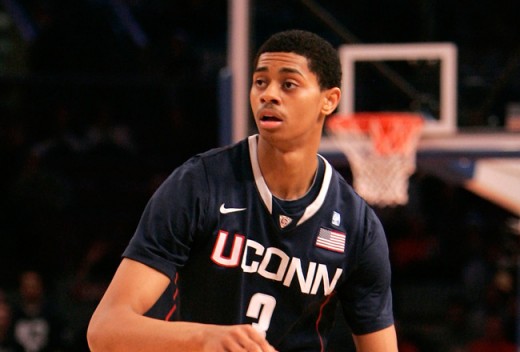 "This will put me in the minority, I think, but I believe Lamb would be a fine selection at 4. It is easy to forget how good Richard Hamilton was, but Lamb really has his potential, with the frame to support more muscle than Rip ever did. He shoots midrange lights out, is a fine long distance shooter, can create a bit of his own offense but uses off-ball screens better than most his age. Without Lamb, there is absolutely no way UCONN would have won a national championship in 2011. He was able to feed off a shoot first point guard and get his own opportunities and make the most of them. I believe with Kyrie Irving, its a perfect fit." [David Zavac]
"The Suns could present Gee, a restricted free agent, with $16 million over four years in hopes the Cavaliers won't match the offer, according to The Morning Journal of Northern Ohio. Michael Kidd-Gilchrist being available at No. 4 in the NBA Draft is one scenario under which the Cavs could let Gee go." [Sporting News]
"As the draft rumors keep picking up steam, word is the Cleveland brass are leaving no stones unturned when it comes to upgrading the roster. The Cavaliers have been linked in a trade with Charlotte, which would have them move up to No.2 overall in exchange for the No.2 and No.24 (via Los Angeles Lakers) overall picks. In addition to that scenario, it appears the Cavs are also kicking the tires on a deal with the Portland Trail Blazers, with Cleveland receiving the No.6 and No.11 selections for the 4th and 24th picks." [Neal Leitereg]
"It might be possible for the Cavs to move up a spot, maybe even two, to get their hands on Kentucky small forward Michael Kidd-Gilchrist (6-foot-7, 232 pounds) or Florida shooting guard Bradley Beal (6-3, 207). The price, however, might be prohibitive. It might take their No. 4 pick, maybe one of the second-rounders and forward/center Anderson Varejao to accomplish it. The Cavs' No. 24 overall pick could also be in play. That's totally absurd and a steep price to pay. This team is void of NBA talent. Why are people so apt to just give away their second-best player, and perhaps several viable draft picks, for something that's not a sure thing?" [Bob Finnan]
So, a few thoughts:
–You tell me on Lamb. I'm not a fan, but I find that's not based on much other than my own intuition from having watched him play about ten games over the course of his freshman and sophomore years. Obviously draft positions will change as players go through workouts and interviews, but four seems high, no? Could the Cavs move down, pick up another pick, and still get Lamb at seven or nine?
–I'd like to emphasize that the Suns haven't offered Alonzo Gee anything yet; what the Sporting News is reporting is just what's in the ether. But if they did offer him four years/$16 mil… oof. That's rich for a pretty good defensive player with a limited offensive game. (By the way, of course the Suns would offer Gee about four million dollars more than he's worth. Is their goal to ultimately create a superteam of overpaid sixth men?)
–You know where I stand on trading up. I'm cool with that Blazers trade (which may or may not be a real thing) if the Cavs don't love anyone at four or think they can get still someone they love at six.