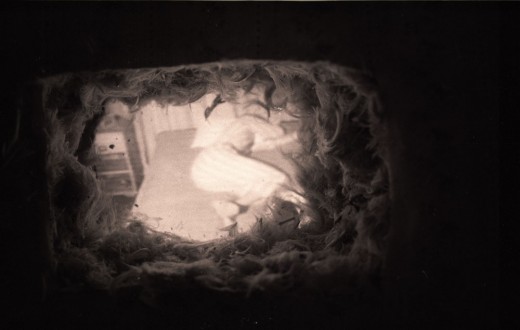 Boobie Gibson is a strange, halfway sort of thing. He's like a splinter over which a full inch of skin has grown. He is old enough now that Cavs fans no longer harbor delusions about what he could be, though what he is, exactly, is indeterminate, like we've been peering down the road for so long, expecting him to appear in the distance, a fully realized incarnation of our hopes for him, that we make a startled yelp when we look to our right and realize he's been riding shotgun the whole time. Boobie Gibson, at this point in his career, functions more as placeholder than player. He is unique as a memory-conjuring figure. As a player, he's interchangeable with a handful of smallish combo guards who can knock down an open three-pointer. His game is not dissimilar to Courtney Lee's, though Lee inflicts painful memories where Boobie reminds us of the childhood of what was supposed to be a championship team. Do you remember when the Cavs lost to the Spurs in the NBA Finals, and you thought This team is much better than I expected, and they have so much room to grow? Boobie Gibson was part of that, one of the parts that was supposed to grow.
He didn't, really. He's not Ray Allen, it turns out. Instead, he's an inch deep in the pad of our thumbs, buried beneath newfound hope but still visible. He's still, persistently, a part of right now. I'm happy he's here, though I'm not sure why. Here's a game for you: try to come up with a Boobie Gibson memory other than him dropping 31 points on the Pistons in game 6 of the Eastern Conference Finals in 2007. Surely, you're not thinking of anything that has happened in the past two years, over which Gibson has struggled to remain in Byron Scott's rotation due to nagging injuries. You're not likely to recall his performance in the 2009 Playoffs, when he played a total of six minutes during the first three games of the Eastern Conference Finals against Orlando. Maybe his regular season game-winner against OKC in 2010? His "Yessir!" head shake was in full effect after that one. Remember when he shaved a star into his head? That was pretty cool. Or at least mildly idiosyncratic.
Perhaps your aptitude for the Boobie Gibson Memory Game is higher than mine, but if someone were to ask me about him, I would have very few stories to tell. (Though, bonus track: here's a clip of him play-fighting with Mo Williams. I really miss that team, you guys.) I would say only that I love him, and that it's the same stale but curiously poignant love one has for things that spoke to them in high school. Then I would talk about his little brother-big brother relationship with LeBron and feel wistful.
The Cavaliers are entering their second summer of inspecting their roster, consulting the map Chris Grant has tattooed on the underside of his tongue, and pruning players accordingly. Boobie Gibson could be one of those players. (He's got a team option for $4.8 million next year.) He likely won't be expelled from the team for the boring reason that unless the Cavs splurge this offseason, he's still going to be one of their ten best players. If you see a lanky dude with long brown hair holding a "Boobie Gibson is still on this team, and I'm pretty okay with it" sign at the Q this season, that's me. (I'll also be wearing "This hurts me more than you can imagine, but I really need you to suck, Jonas" body paint. I'll be easy to spot.)
Empirically speaking, Boobie Gibson is the type of player you're pretty okay with having on your team. He can knock down an open three about as well as anyone in the league and isn't a disaster on the defensive end. He is capable, intermittently, of pouring in buckets as if possessed by a higher power. He will win your team between two and zero games per year. I worry about his ability to stay on the court.
Empirically speaking, Boobie Gibson is boring. But he is, persistently, part of right now. I don't want him to leave, and I think I know why. If it's all the same in terms of talent—are the Cavs getting anything better at the ninth spot of their rotation than a smallish combo guard who doesn't miss open threes?—then we should embrace the difference between what Boobie Gibson means as opposed to what he is. Along with Anderson Varejao, he is the last remaining Cavalier who was present when Cavs fans' dreams burned a bright shade of purple, when that feeling of This team has so much room to grow! was still palpable. Unlike Varejao, he is young enough (he's 26) to participate in this new Post-LeBron Cavalier rebuild experiment. He cannot realize the unrealistic expectations we allowed ourself to bestow upon him, but he can help. If 31 year-old Boobie Gibson is the veteran on a Cavs playoff team, spelling Brad Beal for twelve minutes a game, and maybe giving a few "Yessir!" head nods after catching fire in the middle of a third quarter against the Bulls, I'll be unspeakably happy. The dream died the day LeBron decided to leave for Miami, but the thing about dreams is they come back to you in fragments. Boobie Gibson is one such fragment; it would be ideal if the Cavaliers could rebuild the dream around him.