Today we'll focus on three Vanderbilt Commodores that meet Cleveland's positional needs and will be chosen around their #24, #33 and #34 picks.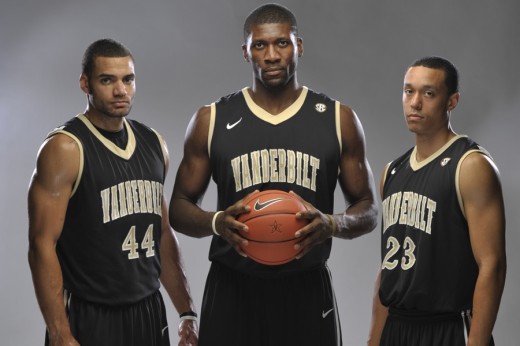 John Jenkins may be this draft's best shooter.  While launching nearly nine three-pointers per game during his junior year, he knocked down 44%.  He fires with his feet set, off screens, pulling up in transition or around a pick.  During one game, I recall the announcers discussing his 0.6 second catch-to-release, and how that bests what is normally considered an elite time of one second.  That's his only strength though; of his 20 point per game scoring, nearly 12 of those come from deep, and his 1.2 assists, 2.9 rebounds, or 0.8 steals aren't exactly stuffing the box score.  At 6'4" and as an average athlete, he'll only be a marginal defender against fast NBA twos.
Jeffery Taylor stands 6'7" and plays small forward.  He is known as one of the draft's elite athletes and a lock-down defender.  Finishing his senior year and turning 23 this month, Taylor averaged 16 points per game, aided by 42% shooting from deep.  Aside from his shooting, he is most effective in transition.  Defensively he moves very well and clocks-in for every possession.  His rebounding is mediocre and shot creation marginal; his role in the NBA is basically as a 3-and-D guy.   Currently projected to go off the board around #20, the Cavs likely need to package two picks if they want Taylor.
Festus Ezeli is a senior from Nigeria, a legitimate center at a long-armed 6'11" and 255 pounds, with outstanding athleticism for a man that size.  Offensively, his repertoire lacks.  Most of his "post moves" amount to sealing his man off, and dunking.  Not that there's anything wrong with that; his 10 points in 23 minutes per game come on 54% from the field and he attempts nearly as many free throws as field goals.  He effectively muscles up on post defense and blocked two shots per game.  Like a lot of young, athletic big men, his rebounding on the offensive end far outpaces his prowess on the defensive boards.  Maybe it's reasonable to shrug off 18-year-old Andre Drummond grabbing 16% of available defensive rebounds, but Ezeli isn't much better at three years his elder.  Ezeli tries to block too many shots, frequently leaving him out of position.  As a final note, in 3000 career minutes, Ezeli dished out 18 assists.  Due to his unrefined post footwork and occasional oven-mitt hands, he turned the ball over that many times in one five game stretch this season.
For more details, onto some game recaps:
NCAA tourney against Wisconsin: In Vandy's NCAA tournament loss against Wisconsin, Taylor finished with 9 points, 1 rebound, 0 assists, 1 steal and 3 turnovers in 30 minutes…kind of uninspiring.  Operating primarily from the perimeter on offense; nine of his twelve shots were jumpers, of which he only connected on three.  Despite not posing a huge threat penetrating to the basket, he showed off really well-practiced footwork and crossover moves to launch into pull-up jumpers, once leaving his man crumpled on the ground as he rose up for an uncontested 18 footer.  He defended Wisconsin's point guard capably on multiple possessions and understands his rotational responsibilities, even swatting a three-point attempt on one close-out.
Jenkins netted 13 points on 42% True Shooting, along with 2 rebounds and 2 assists.  Of his 13 field goal attempts and 6 free throws, all but two were jumpers.  He was able to find shots, off screens or step-backs & pull-ups, either out of isolation or a pick-and-roll.  In this game, they weren't going in.  His defense was largely non-noteworthy; a non-attempted box-out allowed a put-back and his man sped by him en route to an and-one.
After beginning the game on the bench due to a non-disclosed discipline issue, Ezeli posted one of his season's best games, with 14 points on 73% True Shooting and 11 rebounds.  His offense is not terribly nuanced; of his five field goals, twice he established deep position, received a pass & dunked and twice he scored on offensive rebounds.  In his three attempts at making post moves – he charged, travelled, and bobbled a pass, resulting in a blocked shot.  This was a really impressive game though.  Playing very physically, he drew four off-the-ball fouls battling underneath.  As the ball swings around Vandy's perimeter offense, he effectively seals his man off to benefit from an easy dunk.  Defensively, he hedged well & rotated back on a pick-and-roll, and he closed out on a shooter with choppy steps.  In the post, he denied the ball well, including stealing an inlet pass, and he generally made it difficult for Badger big men to get shots off.
SEC tourney against Ole Miss: In 28 minutes, Taylor turned in the most invisible effort I've watched while profiling draft picks: 2 points on 1 of 5 shooting, 2 rebounds, 2 assists, 0 steals, 0 blocks, 0 turnovers and 1 foul.  The Commodores won easily though, and JT rotated and slid his feet well on defense, drawing two offensive fouls.
Jenkins again functioned primarily as a jump shooter, with 13 of his 16 shots coming from behind the arc.  He made five from deep and finished with 23 points on 62% true shooting.  This is subjective, but JJ gets fouled while jump shooting more than any player I've seen.  The announcers noted his ownership of the SEC record for career four-point plays.  Again, his non-shooting offense was limited, including one transition layup getting chased-down and one time tripping and losing the ball. It's pretty simple, shooting is what he does.
Ezeli battled foul trouble and finished with 0 points in only 16 minutes.  He did not foul out of this game, but has been consistently plagued by the issue, fouling out five times in 2011 – 2012.  His physicality works both ways though, as he drew two more fouls battling for deep position.  He exhibited a wide range of defensive skills; rotating as help to block a layup, and forcing tough looks whether faced up against or backed down by a big man, or switching onto the ball handler in a pick-and-roll.  His rebounding was a mixed bag; poor box-out fundamentals resulted in three defensive rebounds, but his aggressive demeanor at the other end netted him four off the offensive glass.  Finally, bad hands resulted in a bobbled pass and negated an opportunity for a dunk.
Summary: Watching these two games shows some of the danger in watching a couple of games and drawing conclusions.  Taylor averaged 16 & 5 this year, but only 5.5 and 1.5 in the games discussed above.  Jenkins drained 45% of his nearly 300 threes in the games I didn't watch, but only 32% in the two profiled.  Ezeli is occassionally noted as a player that struggles with team defense, but these two games were solid.  Also his 8 defensive rebounds against Wisconsin matched his second highest total of the last two years.
Taylor's projected role in the NBA as a "3-and-D" player is fairly straightforward; if he can't consistently drain open looks or impede the opponent's best, his usefulness will be limited.  Although it is a skill where he has improved every year, prior to this season, he only connected on 30% from downtown.  It may be worthwhile to look closely at his athleticism and shooting performance at the combine, and also see if any "Harrison Barnes and Terrence Ross couldn't score against him in workouts" stories start coming out.  If they both pan out, Taylor and Alonzo Gee would be duplicative. If sufficient scoring is added through the lottery and free agency though, that's not a horrible thing.
I think Jenkins can provide valuable bench offense to an NBA team, and Cleveland can certainly use more offense.  With a shot that fast and accurate, for 18 minutes a night, he can run around screens, pop jumpers, and  help maintain a lead while the starters hit the pine.
If the Cavs snagged Ezeli with a 2nd round pick; I could dig it.  I think he'll be a suitable backup center; a Brendan Haywood to someone's Tyson Chandler. He possesses appropriate size and athleticism, plays aggressively and flashes defensive skill.  In my "2011 Draft Follow-Up" from last week, I noted the strength of LaVoy Allen's sophomore and junior years and that was perhaps indicative of his rookie year success.  Ezeli could fit this mold.  Despite a small usage decrease this year, his offensive rating plummeted.  In similar minutes, his scoring, rebounding and shot blocking were down, while his fouls and turnovers were up.  He missed the first ten games of his senior year due to a secondary NCAA violation and a knee sprain; perhaps these issues de-railed a potentially excellent senior year.