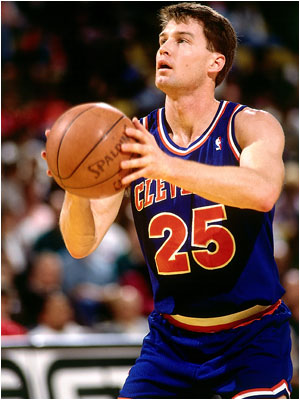 "But we'd play catch.  I'd pretend I was Bob Feller.  He was my father's favorite pitcher.  I wanted to please him.  I loved the moments when we were done, when he'd put his arm around me as we walked into the house.  He seldom said a word.  But I can still see the genuine smile on his face."  – Terry Pluto, Our Tribe
There are few bonds in this world stronger than the love expressed when a father teaches his son the game that he loves, and the son, unknowingly, teaches the father what really matters in this world.  Growing up, I recall the players my father loved: Rocky Colavito, Lenny Barker, Joe Carter, Sandy Alomar Jr., and Mark Price.  Growing up, I idolized Mark Price, and my dad fostered the starry-eyed relationship between child and pro-athlete.  To my dad, Mark Price embodied character worthy of my aspirations, on and off the court.  "Practice your free throws; the games are won and lost at the free throw line," he'd say.  And I did.
William "Mark" Price was born in Bartlesville, Oklahoma, on February 15, 1964, the son of Oklahoma basketball legend William "Denny" Price.  Denny led Norman High School to their first ever state championship and set the Oklahoma tournament record for points in a game.  Denny went on to play college basketball for Oklahoma, and embarked on an illustrious coaching career, rising all the way to assistant coach of the Phoenix Suns.  Mark, certainly, embraced his father's love of God, family, and hoops.