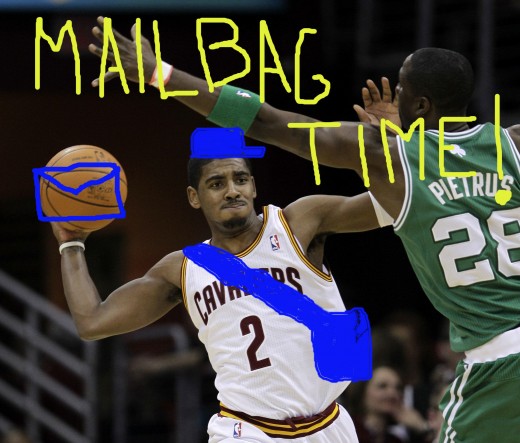 For whatever reason, small tragedies keep befalling me as I try to prepare articles for the upcoming Cavaliers season. But then, you might not want to read 1800 words of post-apocalyptic Dion Waiters fan fiction anyway. Regardless, I've thrown together a couple questions that were kicking around my inbox for an abbreviated version of Mailbag Time!
Cory:
Chris Grant has followed his plan to rebuild the Cavs roster organically through the draft (I totally agree).  When do you see Grant adding to the payroll via free agency or cash dump from another team to finish off the roster? Next summer?  2014?  Not that I think the Cavs are looking to 2014 for a certain opt out but he has bypassed the small forward position thus far in the draft.
Kevin's spoken on this more than I have, but as I understand it, the value of cap space is twofold. It allows you to: 1.) throw money at whomever you want in free agency and 2.) absorb bad contracts in a trade that nets you an exceptional player or lottery picks. We've seen the Cavs exercise the latter advantage when they nabbed an additional lottery pick from the Clippers in exchange for the fat ghost of Baron Davis, and regardless of how close they were to landing Andrew Bynum when the Lakers were looking for a trade partner in their pursuit of Dwight Howard, the Cavs would have been fully capable of taking on a bunch of lousy Orlando contracts if the Magic had wanted to jettison the likes of Hedo Turkoglu, Glen Davis, et al.
I think over the next couple of seasons, we'll see the Cavs continue to try to use their cap space to facilitate trades. Though I'm a bit concerned they're developing a reputation as a finicky trade partner, Chris Grant seems to work the phones pretty hard when talent or draft picks are on the market. We've seen the Cavs pop up in a lot of trade rumors over the past couple of years, and I think this is due in part to the fact they're one of the few teams in the league that has the sort of cap space that makes them an ideal third team in a blockbuster.
As far as if and when they'll cash in that cap space on free agents, I can't with any confidence tell you that it's going to be a certain summer (2013, 2014, 2015), but from reading the tea leaves, I think the Cavs will spend money on the free agent market (assuming they haven't used their cap space to acquire a superstar via trade) to supplement an already extant core. In other words, I would be surprised if they tried to sign a superstar on the free agent market. (It also probably wouldn't work.) I think they're hoping Kyrie Irving and Dion Waiters will develop into one of the best backcourts in the league, Tristan Thompson will become something like a super athletic Andy Varejao, and that they can draft a really good player in one of the next couple of drafts (remember: the protection on that Kings pick they acquired in the Hickson-Casspi deal continues to dwindle each year).
Then, if all goes well, they'll be able to use their cap space—which won't be bountiful if Waiters and/or future draft picks turn out to be all-stars; we're being reminded by the James Harden saga that the only downside to drafting well is you eventually have to dole out big contracts to guys who used to be on paltry rookie deals—to sign the sort of $3-6 million per year specialists that will round out the roster and paper over their deficiencies. I could see them getting knocked out of a seven-game series with the Bulls in round two of the 2015 playoffs, deciding they need a scorer off the bench, and going after a Jason Terry type.
Of course, that's a rosy future pretty far down the rabbit hole. But all indications point toward this front office living and dying with the players it drafts, not extravagant free agent pickups. Perhaps now you understand that I'm piloting the Saint Weirdo bandwagon mostly out of gleeful fatalism. Dion Waiters: Because We're Not Celtics Fans.
Ben:
1. How good can Dion Waiters be?

2. How bad could Tristan Thompson be?

The answers to those two questions will help us understand how much Kyrie Irving Cleveland can hope to enjoy. Zeller/Varajeo is the perfect center combination for a dominant point who likes to run. There isn't a small forward on the roster worth noting… if TT and Dion can develop Kyrie might see a future. If they don't, I don't see him sticking around.

I think Tristan is a more engaged Tyrus Thomas, but not that much more. He is the weak link.

I agree with you I think Dion is incredibly interesting, but do you really believe he can be the second best player on a contender? I haven't seen it.
The answer to your first question is obviously that I don't know, so I'll keep my explanation short. The Cavs drafted Dion Waiters because he has the potential to be great—one of the very best shooting guards in the league—as compared to Harrison Barnes, who might end up being a better player than Waiters, but who would also surprise me and a lot of other people if he develops into a superior version of Danny Granger. Thomas Robinson presented the same sort "ceiling problem" as Barnes (though I like T-Rob better), plus he plays the same position as Tristan Thompson, who the Cavs would either have had to ship out or relegate to the bench. I guess Andre Drummond was in the mix at the fourth pick, too, but I think Chris Grant had visions of an offensively incompetent front line of Drummond and Thompson and elected to go with the guy who can score. So yeah: Dion Waiters was the best available option, and he can become a terrific player. If you'd like to ask me if he will, I'm not drunk enough right now to summon the gall to answer that question. But it's the preseason; we can still dream.
The question of TT's basement is something I can come closer to answering. I actually think he's going to be okay, which I acknowledge is kind of a crushing thing to say about a fourth overall pick heading into his sophomore season, but the 2011 draft was probably not great, beggars can't be choosers, etc. As has been written on this blog before: he's got a gift for snagging offensive rebounds; he's a great athlete; and the coaching staff raves about his work ethic and coachability. I think, if the Cavs surround him with offensively talented players that allow him to focus on defense, rebounding, and garbage buckets, he'll be fine and perhaps even thrive. I hope he transforms into the Canadian Serge Ibaka everyone is anticipating, but I'm not too sour on the prospect of him becoming a double-double guy who occasionally looks like he doesn't know how to control his limbs.
And Kyrie's not going anywhere. His rookie deal runs a few more years, and after that he's a restricted free agent. It would be ideal if he re-ups with the Cavs before he reaches RFA status, but if the situation gets that far, the Cavs will just match whatever token offer sheet a team with cap space extends to him. Irving will be a Cavalier until his mid-20s at least.
I know both emails mentioned the whole small forward problem. This has already been a pretty bleak 1300 words. Let's save that question for another time, 'cause I have a long and speculative answer.
If you'd like to submit a question for Mailbag Time! my email is colinsilasmcgowan [at] gmail [dot] com. Or you can hit me up on Twitter at @cs_mcgowan.