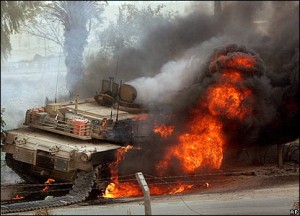 Quick note – someone has been commenting as me (Mallory) in the comment sections.  From now forward I will log into the blog, so I'll have an official stamp – basically, you'll know it's me.   That's all about that...
What an awesome win, although the Knicks were clearly willing to sacrifice this one in favor of trying to get Amare back into the mix.  I'll be honest with you all and admit I didn't watch this one closely – John, Ryan and I were recording a podcast.  Unfortunately my computer had a meltdown and the podcast seems to have disappeared.  Go figure.
Basically, as far as I can tell (and from what I watched):
The Good:
Kyrie – he clearly returned to form.  I saw him make some of his patented fancy moves and did a great job getting to the rim.  He shot atrociously from the 3, but who cares – he's back, that's all that matters.
Manny Harris – REALLY DUDE?  TWELVE REBOUNDS?!?!?!  ALL ON D?!?!?!?!?!?!?!?!  Not only that, but the guy shot 6-12 and hit 3 3-pointers, including an absolute BOMB from almost the half court as time expired (true story – Ryan and I were talking after the podcast was recorded and I literally screamed "ARE YOU EFFING SERIOUS."  It was that jaw dropping.  I could get used to this…)
Samardo – I'm chalking this up to the fact that Amare is really, really rusty.  Also, Jorts played for 5 minutes so that's gotta come into play, right?
The Bad:
Melo – I know he's not a Cav, but since it's almost definite the Knicks are going to face the Heat (at least it's almost definite in my head, where I see them winning, so yeah…) I figured it'd be nice to see what was up with the Knicks' star.  He was 5-13, meaning Casspi, AP, etc. must've played some damn fine D.
Jamison – Yuck.  Just…yuck.  But can you blame the guy?  He's collecting massive paychecks for a crappy NBA team.  The man has no incentive left.
The Rest:
Sorry for such an informal (and silly) recap – I was glancing on and off while recording the podcast and had hoped to have it up tonight to go along with a short recap, but lo and behold it's gone.
So just to give you a quick summary.  John, Ryan and I were discussing the merits of tanking, how they affect the psyche of the fan, whether or not tanking in the NBA is a real issue or not, and what all this tanking means for the future.
If you'd like to discuss in the comments section, I'll do my best to lead this discussion as I did during our podcast.
Keep an eye out for an end of season podcast next week.  Until then…!