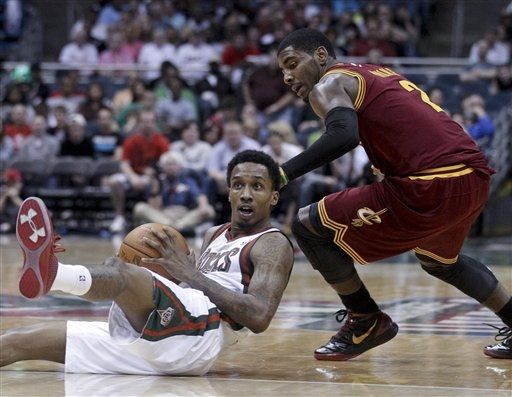 The Cavs lost to the Milwaukee Bucks in an utter shootout that I'm sure turned Scott Skiles some shade of purple so pure that it cannot be detected by the human eye.
–Not a lot of defense in this one. The Bucks shot 54.4% from the field, and both teams were getting into the painted area at will. Drew Gooden had a triple-double! He dropped off 13 assists! What a ridiculous basketball game!
–Kyrie Irving, for what it's worth, was pretty terrific. Way too many turnovers, but he rediscovered his shooting touch, posting 28 points on 8-for-12 shooting. He also moved the ball really well in the first half. I think we've seen, during Irving's shooting slump, some emerging point guard instincts. I wouldn't be surprised if he averages eight dimes a game in a few years when he has better teammates.
–Trill AG was great, too. He was uncharacteristically efficient, putting up 19 points on 50% shooting. He was also super active in the passing lanes; I think he got his hands to about five passes tonight. I still think that, ideally, Gee is a bench player in this league, but he's a really good bench player. If he's the Cavaliers' sixth or seventh man in a few years, it means the Cavalier front office has done a lot of things right.
–TT did very little. Three offensive boards and a whole lot of watching Ersan Ilyasova score.
–I would applaud the performance of the Cavalier role players in this game (Boobie had 9, Samuels had 8, etc.), but Carlos Delfino went for 17, so maybe I'm going to cut my hands off with a bandsaw instead.
–Also, Ersan Ilyasova is one my favorite non-Cavaliers. His game is like watching an upright crocodile do Swan Lake.
The Cavs have a couple days off before they take on the Hawks at the Q on Sunday. Until tomorrow, friends.