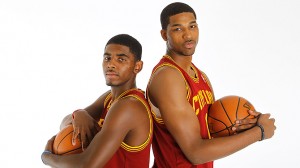 Because the Cavs are in an obvious rebuilding mode, I thought we'd spend today's preview looking at the newbies on the roster.  From that perspective, things look very promising.
The Cavs had three draft picks in this year's draft.  With the number one overall pick they selected Kyrie Irving out of Duke.  With the fourth overall pick they (surprisingly) took Tristan Thompson from University of Texas.  In the second round with the second pick (32 overall) they took Justin Harper, but flipped him over to Orlando.  They later acquired Milan Macvan with the 24th pick in the second round (54 overall), but I doubt we'll see much of him in the coming years – he's currently in the midst of a 5-year contract with Maccabi Tel Aviv, and it would take a hefty buyout to get him here anytime soon.  The Cavs also acquired Kenny Hayes and Mychel Thompson as unsigned rookies.  While it's a long shot, they're both hoping to make the team and avoid the D-League.
Kyrie Irving
The obvious highlight of this Cavalier draft class is Irving.  A heralded recruit in 2010, Irving played sparsely during his freshman campaign at Duke.  While our sample serving of him is small, we do know a few near-definite things about the young point guard:
First and foremost, the kid is very much a true point guard.  Irving has excellent ball handling skills and is a good passer.  While he did only average 4.3 assists per game, he has the court vision and pass-first mentality to up that total substantially, particularly if he has some excellent talent surrounding him.  While this may not happen for a while, and he certainly will need to work hard to perfect his passing, it bodes very very well for the Cavs' future.
Irving is an very efficient scorer, particularly for someone who is more of a jump shooter than a driver.  He hit an insane 52.9% of his shots, and an equally astonishing 46.2% of his threes.  Irving averaged 6.5 free throws per game, making 90% of those shots.  In all, his shooting numbers should take an (obvious) dip as he transitions to the pros, but he rates out to continue being an efficient shooter – something the Cavaliers desperately needed last year.  He wont take a ton of shots, but when he does, you'll be sure he's doing it because he knows it's the right situation to do it.
Another major positive about Kyrie's game is his defensive skills.  Irving is a lockdown defender committed to stopping other teams' elite PGs.  His defensive stats aren't anything incredible, but he's the type of silent defender that will do everything so well, you wont even notice it's happening until you realize how little the other team's point guard has done.
Irving has excellent leadership skills and has all the intangibles you want as your team's star.  His work ethic will propel him to improving every facet of his game.  He's a decent rebounder and will grab a few every game.  He isn't the world's greatest athlete, but he's more than competent to hold his own in the NBA.
Irving isn't without his flaws, though.  As I said before, Irving wasn't the best passer in college.  Additionally, his lack of elite athleticism may hurt him against the likes of Rose, Rondo, Paul, and Westbrook – the faster PGs in in the NBA.  The biggest red flag, though, is Irving's health.  He played in only 11 games in his only NCAA season because of a ligament injury in his toe.  While this isn't necessarily indicative of long term health problems, it's definitely somethign to keep an eye on for the future.
In all, Irving seems to be just what the Cavs need a year after having such an abysmal season.  He'll need some time to grow into a great passer, but he should be able to come in and contribute as a nice scorer and defender.  And more than anything, he gives the Cavs hope for the future – something they're desperate for in the post-Lebron era.
Tristan Thompson
The Cavs shocked most everyone on draft day by taking Tristan Thompson with the fourth overall pick.  While most people were disappointed that they didn't take Jonas Valanciunas, a true center, with the number four pick, I actually believe that Thompson could be a special player with a lot of hard work and patience.
Thompson's biggest asset is his skill on defense.  Tristan plays with a high motor and a lot of activity.  He is strong, fast, and long, and has the ability to play guard outside and inside.  He averaged a good 2.21 blocks, and that should go up as he learns to use his long arms and body more effectively.  He has the potential to be a devastating defender in the future, and should be an exciting addition to the Cavs frontcourt.
While he is by no means a complete offensive player, Thompson is great while facing the rim.  He's shown some good ability at driving to the basket and finish, and plays well above the rim, particularly for someone so small (he stands at a below-average 6 foot 8).  Thompson is a good offensive rebounder and is able to get a lot of his points off of missed shots.  Finally, Tristan is outstanding at getting to the line.  During his only season at Texas, 26.3% of his possessions resulted in free throws.
Unfortunately that's where the good ends and the bad begins.  Thompson is a terrible free throw shooter.  I mean truly horrendous.  He shot an abysmal 48.7% at the line last season.  Not only is he a terrible free throw shooter, but he's relatively unskilled in the post and as a jump shooter.  Furthermore, Thompson is actually a fairly poor defensive rebounder – he averaged just 5.1 defensive rebounds per 40 minutes, which is far too few for a guy who can't be a huge offensive threat.
Overall, Thompson has the potential to develop into a great defender and a fine option on offense.  With Irving dishing the ball to him, Thompson can use his athleticism efficiently, driving to the rim and scoring with power.  As long as he works to develop a post game and better defensive rebounding skills, he'll definitely be a consistent contributor, and could even be a occasional force.
Kenny Hayes and Mychel Thompson
Aka the long shots.  These guys don't really have much of a shot at making the team, but I figured I might as well discuss them a bit.
Hayes is a small guard who isn't particularly great at passing (3.1 assists per game as a senior at Miami of Ohio) or shooting (40.2% shooting in 43 games while playing for Maine in the D-League).  On defense Hayes is, again, nothing to write home about.  He's not great at stealing or blocking, and isn't big or fast enough to defend either guard position.
A tall swing guard (standing at 6'7″), Thompson isn't the most efficient offensive player.  He shot a terrible 36.1% from the field as a senior at Pepperdine (and that was an improvement over years past!).  Still, he's a pretty good defender, averaging nearly a steal and a block per game, and he gets enough rebounds (between 5 and 6) to make himself felt while on the court.  He probably has the better shot of the two of ultimately making the team, especially given that the Cavs don't have many tall swing guards on the roster.
Stay tuned for tomorrow – Colin will be back with some more preview fun – this time, he'll be discussing the schedule.