Archive for June, 2011
Thursday, June 23rd, 2011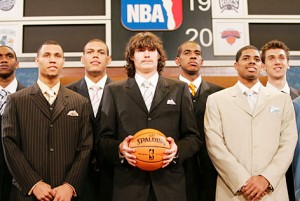 I've been searching all day for a single article that explains all the scenarios that are in play today/tonight. This Adrian Wojnarowski piece delineates the chaos better than anything else I've sifted through. Here's what I've gleaned from my research today:
–The Cavs want to draft Jonas Valanciunas, but they would like to trade down and pick him at somewhere in the #6-#9 range, picking up an additional mid-round selection in the process.
–The Cavs have discussed a trade with Bobcats. They select Tristan Thompson at #4; Charlotte picks up Valanciunas at #9. The Cavs and Bobcats then swap Big V and Thompson. Charlotte also sends along its #19 selection. Charlotte is willing to do this because they fear the Pistons will take Thompson at #8.
–However, Detroit is thinking about taking Valanciunas at #8, one slot ahead of Charlotte. Dumars allegedly has gotten the go-ahead from management to draft a guy who won't be playing the NBA next season.
–The Spurs and Thunder are looking to trade up for Sacramento's #7 pick so they can take Valanciunas.
–The Cavs are still trying to engage Washington (#6) and Toronto (#5) in trade talks. No concrete news on that front, but the teams are apparently conversing.
–It seems like, if one of these worst-case scenarios plays out (let's say the Spurs pull off a deal for Sacramento's pick), the Cavs are unafraid to take Valanciunas at #4. Chris Grant and co. are weighing their options, but all indications are that getting Big V is goal number one; picking up an additional draft pick is a secondary goal.
–Oh, and the front office still hasn't officially committed to taking Kyrie Irving with the first pick. So there's that.
MID-LOTTERY TRADE NEWS
"Teams calling Sacramento about the #7 pick are being told it's already been moved. Problem is, no one knows to who, or for which player." — Jonathan Givony of DraftExpress
"Milwaukee has a three-way deal with Charlotte and Sacramento, sources say." — Adrian Wojnarowski of Yahoo! Sports
So, the Milwaukee/Charlotte/Sac-Town deal is as follows: the Bucks get Beno Udrih, Stephen Jackson, and the #19 pick; the Bobcats get the #7 pick and Corey Maggette; and the Kings get the #10 pick and John Salmons.