Athletic tests from the draft combine were released. Derrick Williams had average vertical jumping, but lead the combine in the bench press and was in the top half for the speed and agility drills. Brandon Knight was top 5 (of 53) for the speed and agility drills and in the top third for vertical leaping. Knight also performed ten reps of 185 lbs in the bench press. One player with disappointing athleticism test results was Kawhi Leonard. Leonard had the 7th worst standing vertical jump, 12th worst maximum vertical, was in the bottom third on agility drills, and performed three reps in the bench press. Leonard is a potential top 5 pick and deserves a closer look.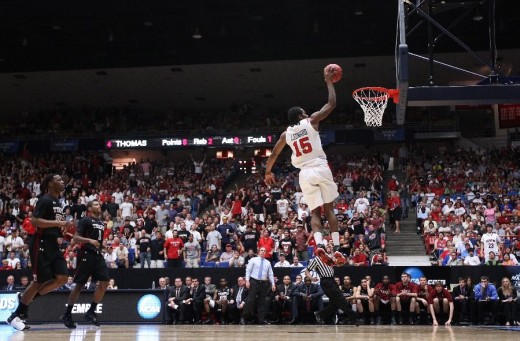 Kawhi Leonard
Height: 6' 7"
Weight: 227 lbs
Position: SF
Age: Turns 20 in June
Summary: Kawhi Leonard just finished his sophomore year at San Diego State. He was the leader in scoring, rebounding, and steals for a 34 win team. He is most intriguing due to his length and energy level and is viewed as a top 4 – 8 pick.
Basketball Bio: Kawhi Leonard played high school basketball in San Diego, where he was named Mr. Basketball California his senior season. As the 60th ranked recruit in the class of 2009, he stayed close to home and attended San Diego State. His freshman year, Leonard lead the Mountain West Conference (MWC) in rebounding and was first team all conference. In 2010 – 2011, Leonard averaged 15.4 points and 10.7 rebounds in 32 minutes while leading SD State to the MWC tournament championship and the sweet 16 of the NCAA tournament.
Skill Overview: Leonard is a great rebounder. While not possessing outstanding jumping ability, he gets off the floor quickly and has long arms and huge hands. His wingspan is 7' 3", amazing for a 6'7" player, and his hands were the largest of the 2011 NBA draft combine. Leonard is an active, high energy player and a hard worker; often described as a "gym rat". These attributes allowed Leonard to snag the 9th most rebounds per game this year, despite SD State playing at only 64 possessions per game (68 was NCAA's median). He was most effective on the defensive glass, grabbing 26% of the available rebounds which was the 15th best rate in the NCAA. Another strength is that Leonard uses his length and energy as a force on the defensive end. Guarding multiple positions (2, 3 & 4), he is disruptive in the passing lanes and fights through picks defending pick and rolls. Offensively, he can create scoring opportunities for himself and is also a good passer, finishing second on the Aztecs with 2.5 assists per game against only 2.1 turnovers.
Offensively, Leonard is still a work in progress. He shot 29% on three pointers in 2010 – 2011 and 31% on long 2 pointers. He wasn't particularly skilled at anything, instead showcasing average ability to score in many different ways. Based on data from Synergy Sports (via draftexpress.com); Leonard was slightly below average as a per possession scorer on spot-ups, isolations, put-backs, fast breaks, cuts, and pick & rolls. Leonard creates scoring opportunities each of these ways, but was unable to distinguish himself as extremely effective at any of them. Leonard shot 44% from the field and had a true shooting percentage of only 51. He shoots free throws at 75%, but shoots less than one free throw for every three field goal attempts. At offseason workouts in Las Vegas, scouts have been very impressed by the work Leonard is putting into shooting and ball handling.
Additional Info / Advanced Stats: Due to his positional flexibility, size, and energy; Leonard is known as a high quality defender. He collects steals at 1.4 per game, good for 4th in the MWC (225th in the NCAA), but only blocked 0.6 shots per game. Sometimes these two stats are poor means to evaluate defensive impact. Looking deeper at SD State's plus / minus, it appears their defense was better when Leonard was on the bench. Starting with their first BYU game (final17 games), SD State allowed 0.94 points per possession with Leonard playing compared to 0.87 with Leonard sitting. Over these games; the SD State defense was good with Leonard, but great when he was on the bench, as the 0.87 points per possession edges Fairfield's NCAA best defense (0.88). This is a small sample size at just over three games worth of off-court possessions, but the difference in performance is enough to say that SD State's defense was not better with Leonard playing. Perhaps the way that Leonard was used within SDSU's system was not perfectly suited to his talents.
The most used comparisons for Leonard are Shawn Marion and Gerald Wallace. Both use their athleticism to rebound and play defense and are also good offensive players, despite below average outside shooting. Leonard probably projects as a "poor-man's" version of either player. Marion has been racking up defensive stats since his college days, when he averaged 1.9 blocks and 2.5 steals at UNLV. Wallace has been first team NBA all-defense and, at his best, improved the Bobcats defense up to six points per 100 possessions when on the court. Leonard is probably not on that level and Marion and Wallace were likely not in the bottom third of their draft class in tests for agility and jumping.
A month ago, Leonard was considered a late lottery pick and that may still be appropriate. Leonard is undoubtedly a very good rebounder, plays with high energy, and works at improving his game. He is a reasonably skilled ball handler and passer. In interviews, Leonard wants to be viewed as a 2 / 3 however a more realistic career is as a 3 / 4. A lesser possible comparison could be a better version of Matt Barnes. Both are around 6'7" and 235 lbs. They are great rebounders, bring a lot of energy, and are capable of guarding multiple positions. Both are average to below average shooters, but Leonard can bring more to the table as an offensive player and has better defensive tools than Barnes. Leonard will be a valuable NBA player, but likely won't be a top echelon offensive or defensive player.