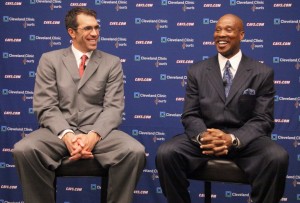 Here's the latest Cavs trade news. Long story short: Mo Williams and Antawn Jamison are likely to stay, Parker might be headed to Chicago or Boston, and I wouldn't bet on the Cavs being the third team in a Carmelo deal, but reading that situation is like trying to parse the symbolism in a Richard Kelly film. The Cavs front office is using the word "patience" a lot, which seems to be code for "we're not getting any halfway decent offers for anybody on our roster, so we might just stand pat." A frustrating if rational decision.
WFNY has a preview of important dates on the Cavs' schedule over the next few months. Heads up, you guys. The lottery is a little under three months away.
"Even on All-Star weekend in Los Angeles, the Cavaliers managed to be embarrassed. As the only Cleveland representative in the weekend's festivities, Boobie Gibson left the window wide open for jokes about the Cavs in his very brief appearance. Gibson's inclusion in the 3-point contest was already relative controversial and was most likely the NBA's way of throwing the Cavaliers a proverbial bone. It could be argued that several other players were worthy of the spot in the contest, such as New Jersey's Anthony Morrow. Gibson's no slouch when it comes to shooting from downtown, but after missing his first 9 shots, Cleveland was sufficiently embarrassed once again." [Conrad Kaczmarek]
Josh Cribbs called Bron "my boy" in a tweet, and a bunch of Cleveland fans got mad at him. So… that's a thing.
On The Twitters
"Finding this Josh Cribbs vs Cleveland fans feud to be quite entertaining. Like being friends with Judas, you don't go around announcing it." [realcavsfans]
"Do other cities compare their sports teams and fandom to girls/dating/breakups/marriage/etc as much as Cleveland?" [Scott Sargent]
"We can only hope the ballboys were real [jerks] to Kevin Garnett this weekend #karma" [Zac Jackson]