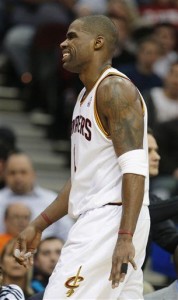 Norman Chad writes a special to the Plain Dealer that discusses the implications of The Decision during the 2011 trade deadline.
"Now the Cavs enter this summer's draft with two lottery picks and a couple more young big men, which was at the top of coach Byron Scott's wish list. Scott was so happy with the job Grant did on deadline day, he gave his GM a big hug at the end of the night." [Jason Lloyd]
"Thursday's first trade that sent Mo Williams to the Clippers for Baron Davis and a first round pick will go down as the moment the Cavs finally started to turn the page from the LeBron era into a new age of Cavalier basketball" [Ricky Braun]
"[The] Cavaliers will now be rebuilding with some of their other younger existing parts and an additional draft pick this season. Williams and Jamario Moon were taking away too much time from Ramon Sessions, Christian Eyenga, Manny Harris and others, so I don't have a problem with [the Baron Davis trade] one bit." [Jacob Rosen]
In case anyone missed this, Rip Hamilton apparently turned down a trade to and subsequent buyout by the Cavs, who would have acquired a lottery-protected first round pick in next year's draft in the process. Not a huge deal, I suppose, but it's odd that Hamilton wouldn't jump at the opportunity to get out of Detroit and onto the playoff roster of a team like Boston or Chicago.
"I can get back to my roots … even if I have to dribble in the snow to get to the gym." [Baron Davis via Mary Schmitt Boyer]
"Scott and Davis didn't exactly click when they were together in New Orleans in 2004. The Hornets traded Davis to Golden State that fall. They've since made up." [Bob Finnan]
"While the veteran presence that Jamison provides on the court cannot be replicated, the injury gives the newcomers from the Boston Celtics a chance to immediately become acclimated with the team. For however long the Cavs are without Jamison, his 33 minutes per game will likely be spread among Erden, Harangody, and Samardo Samuels, providing the youngsters with the opportunity for even more on-court experience." [Conrad Kaczmarek]
On The Twitters
"Sources say Pistons will not buyout Rip Hamilton or Tay Prince. Deal with Cavs could be revisited around NBA Draft time." [Chris Broussard]
"#FanUp #FAIL RT @SimpleeKayla: Heat vs. Knicks crowd: 19,702. Cavs vs. Sixers crowd: 19,882. #JustSayin" [Eric Knappenberger]
"If the Cavs start Harangody at the 4 they will have the smallest starting 5 in the league since the 1948 Rochester Royals." [realcavsfans]