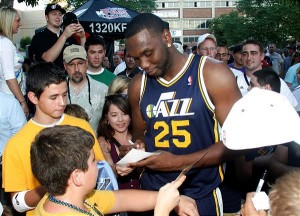 There have been a few murmurings here and there about how the Cavs could have acquired Al Jefferson this past summer when he was being shopped aggressively by Minnesota. Here's a report by Bob Finnan as well as a take from Scott Sargent over at WFNY. There are two sides to this argument, from what I'm reading. The first argument is that the Cavs shouldn't have traded for a guy who is merely a complimentary player on a good team; one who will push them into the 8-10 seed range in the East and out of the area where they could draft a potential franchise player. The second argument is that Big Al is good, young, and could have been acquired at a low price.
J.J. Hickson claims he has to "get back to the old J.J.," which means converting on hustle plays like tip-ins and offensive rebounds. We'll see if "old J.J." actually makes any sort of appearance over the next couple weeks or if that's an empty quote.
Here are a few Cavs/Hawks previews for tonight's game in Atlanta. Most interesting thing I gleaned from that articles: Byron Scott wants a big who can draw double teams in the post. Does Al Jefferson draw double teams in the post? I believe he does.
On The Twitters
"Joey Graham did not make trip to Atlanta. Stayed behind to rest leg. Leon Powe could be active tonight for #Cavs" [Jason Lloyd]
"Silver lining: #Cavs continue to be among the top 10 in assist percentage and are tied for league-fewest turnovers per game. #ballcontrol" [Scott Sargent]