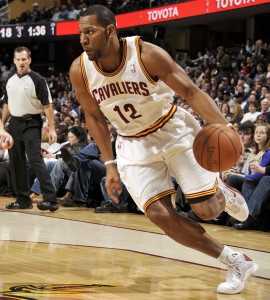 As has been reported by myriad outlets, Joey Graham is set to leapfrog Jamario Moon into the starting lineup. Byron Scott has been frustrated with the hesitancy of Moon's game, and he hopes the intensity Graham has displayed coming off the bench will persist even as his minutes increase. At the end of the above article, Bob Finnan clarifies that despite Antawn Jamison's solid play, J.J. Hickson is expected to keep his spot as a starter.
Bill Lubinger's Plain Dealer article also discusses Byron Scott's decision to shuffle the starting lineup, but if you scroll down, you will see another interesting development: Ryan Hollins is a big, strong man. Having racked up a pair of flagrant fouls in the past two games, Hollins says that it's his job to protect the rim, and he isn't going to shy away from contact: "I'm going to get down there and bang and hit with people." I respect his ethos.
Zac Jackson has a few thoughts about the Cavs' road losses in San Antonio and Charlotte. He also emphasizes how much the Cavs need a win in Indiana tonight, considering games against Milwaukee, Orlando, and Boston are looming in the near future.
Fear the Sword has some stats to consider for tonight's game against the Pacers. A bright spot in the wake of a two-game losing streak: the Cavs are only turning the ball over 12 times per game, which is good for second-best in the NBA.
Another brief preview of tonight's Pacers-Cavs clash at Conseco Fieldhouse. A reminder to the Cavs on defense: cover Danny Granger. He had 34 points on 13-of-21 shooting when he visited the Q on November 13th.
On The Twitters
"Heat just waived Jerry Stackhouse to sign Erick Dampier, sources say" [Chris Broussard]
"For those asking about Heat and Power Rankings, will likely fall to No. 5 pending Hornets' finish." [John Hollinger]
"This K.State coach need some calm down juice! #WhySoSerious.. Nobody perfect.. Let Em Play! #Damnnn #55 Ballin" [Daniel Gibson]