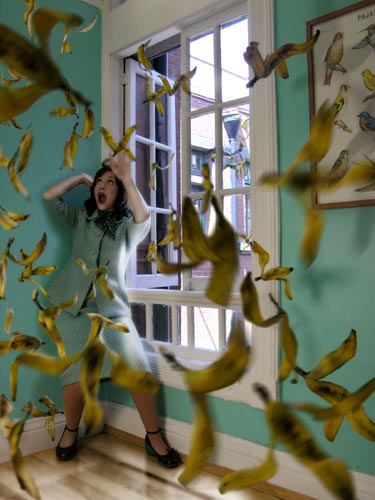 A few quick notes:
-Something I forgot to mention in yesterday's post: get ready for the era of Mickael Pietrus, NBA starter for a championship contender. On paper, he's got plenty of size for the position, is in his prime, plays great defense, doesn't need the ball, and can knock down open shots.
It all seems like an easy, natural solution. And it may well work. But as anyone who's followed Pietrus knows, it will be a journey. The move from Courtney Lee's basketball IQ to Pietrus' basketball IQ is not a lateral one. In fact, it barely qualifies as a sheer and terrifying drop. This could be entertaining.
-Speaking of Lee, I'm bummed that his big playoff triumphs won't come in Orlando, because he had an amazing playoffs as a rookie, has his head on straight, and plays the game the right way. It's a shame his most memorable moment in a Magic jersey is going to be coming up just short on what would have been an all-time finish in game 2. The series didn't end up all that close, and Magic fans don't seem to be making the kid into any sort of a scapegoat, but a part of me definitely would have liked to see Lee's future triumphs come in Orlando.
-Also bummed about Yao Ming, obviously, the last of the pre-LeBron super-phenoms. One of the guys keeping post play alive, a fascinating guy to watch on and off the court, and by all accounts as nice of a guy who's ever picked up a basketball. Hopefully we haven't seen the last of him on the court.
Anyways, today's rumor is regarding Bucks forward Charlie Villanueva, whom the Bucks allowed to walk on Monday.
My take: High-risk, potentially high reward. Here's what I imagine we're looking for out of whoever will end up starting at the 4 alongside Shaq, in order of importance:
1. Ability to stretch the floor for Shaq and LeBron
2. Ability to take Varejao's defensive assignments, i.e. defend perimeter-oriented bigs and show on pick-and-rolls while rotating back to shut off the lane.
3. Ability to score efficiently.
The good news about Charlie V is that he can certainly stretch the floor from the power forward position. He's always been comfortable shooting threes, and last season he actually started to make them at a respectable clip. He set career-highs in both threes made and three-point %, hitting 89 threes at a rate of 34.5%.
Most "shooting" big men settle for universally inefficient mid-range jumpers, which makes going to them on spot-up looks a poor play over time. Charlie V's ability to shoot the three makes him one of the best-shooting bigs in the league; his 46.2% eFG on jumpers means he's more efficient from outside than Kevin Garnett, LaMarcus Aldridge, Big Z himself, Jeff Green, Udonis Haslem, Lamar Odom, David West, Chris Bosh, Antawn Jamison, the list goes on. Only a few starting big men are better outside shooters than Villenueva, and most of them are well-known three-point assassins: Rashard Lewis, Troy Murphy, Dirk Nowitzki, et al. So the ability to stretch the floor would definitely be the biggest point in Charlie V's favor.
Defensively, Villanueva is a question mark-he's got the length and athleticism to be the defender Mike Brown wants, but so far in his career he hasn't shown a lot of ability on that end. His opponent PER last year was an ugly 19.8, well above the league average. Even worse, the Bucks, a league-average defensive team, were a full 4.7 points per 100 possessions worse defensively when Villanueva was on the floor.
Now, I do realize that neither of those statistics is damning to Villanueva's defensive prowess. A power forward's main defensive responsibility is often to give help to the other four guys on the floor rather than try to shut his own man down, so opponent PER can often be misleading for power forwards. Defensive +/- is generally more reliable, but Villanueva's backup this season was defensive maven Luc Rashard Mbah a Moute, who already looks like one of the best defensive "rovers" in the league. Mbah a Moute's defensive +/- was a positive 4.9, almost a direct mirror of Villanueva's negative 4.7. In other words, Villanueva's poor mark is as much a testament to Mbah a Moute's defensive prowess as Charlie V's lack thereof.
But the bottom line here is that playing power forward for the Cavs means taking on a massive amount of defensive responsibility on a nightly basis. I'd much rather have that spot filled by someone whose defense would best be described as "good" than someone whose defense would best be described as "bad, but with a valid excuse."
There are also some causes for concern within Villanueva's offensive game. Villanueva led the Bucks in PER this season, but that's mainly because of his ridiculously high usage rate. Only Dirk Nowitzki had a higher usage rate as a power forward, which is not really a point in Villanueva's favor. In fact, here's a side-by-side comparison:
Player A: 52.9% TS, 9.3 Assist Ratio, 9.4 Turnover Rate, 26.0 Usage Rate
Player B:  53.1% TS, 8.6 Assist Ratio, 9.5 Turnover Rate, 25.7 Usage Rate
I'm not cherry-picking here: those are all the offensive by-possession metrics tracked on the Hollinger Stats Page.
Player A is Charlie V.
Player B is Zach Randolph.
Now, Villanueva is more versatile than Randolph, and more capable of adapting his offensive game to a different situation than Randolph. But if the fact that Charlie V's best offensive year looks exactly the same on paper as Zach Randolph's year doesn't creep the hell out of you, I don't know what would. If we're looking at this guy to be the last piece of an almost-finished puzzle offensively, we're taking a huge risk.
And Charlie isn't a relatively low-efficiency player because of shot selection alone-he's a terrible finisher inside for a big man, converting only 53.4% of his attempts from inside, and only shooting 48.7% on "inside" shots that weren't dunks. Just to be clear, that would be a terrible mark for a guard. He makes up for his low foul drawing rate with a  >80 free throw percentage, and his good jumper makes up for his relatively high proportion of shots that come from the outside, but ultimately Charlie V will never be an efficient scorer in this league unless he learns to finish inside.
Bottom line: Charlie V has the athletic ability and shooting stroke to be the missing piece of the starting lineup. However, he brings a ton of baggage with his overall defensive and offensive game that may or may not be cleared up by going from a fringe playoff team to a championship contender. Until tomorrow, campers.
Update: Wow, Zach Lowe of Celtics Hub made a post about Charlie V last night that makes many of the exact same points that this post did. I promise I did not see that post before writing this one-great minds think alike, and I guess me and Zach do as well.