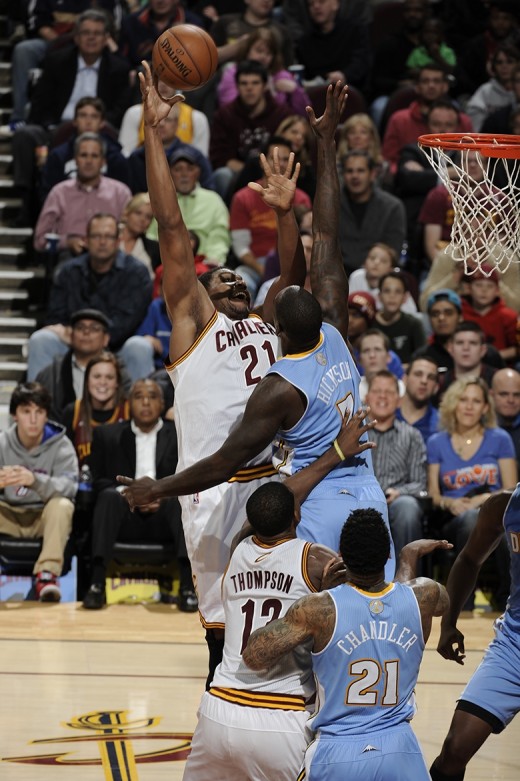 The Cavaliers rode a balance of front court dominance and Kyrie Irving… er, Kyrie Irving-ance to put some scuff on the gleaming Denver Nuggets. The Nuggets, winners of seven straight heading into Wednesday night's contest and one of the league's fastest paced teams, were held to 39.1% shooting. Their leading-scorer Ty Lawson was bottled up scoring only four points on 1-13 shooting, more than 16 points below his season average. For the Cavs, Irving led all scorers with 23 points, but the key to Cleveland's first relatively stress-free fourth quarter was the trio of Tristan Thompson, Andrew Bynum and Anderson Varejao, who combined for 49 points and 41 rebounds.
Cavs' First Winning Streak of the Season Bullets:
-Okay, let's get this out of the way. What is going on with Varejao's facial hair? I mean, that's all any of you could think about during the game, right? It wasn't Andy rediscovering his bolting cuts to the basket, his post game or his continually money elbow jumper. It was whatever that bizarre thing he's got going on in the upper-lip/chin region. I know. I get it. But, please, trust me. If you look past some of the poorest manicuring decisions this side of Drew Gooden, you'll see Varejao's first full game as the Andy of old. He was active and incredibly effective offensively to the tune of 18 points (on 7-9 shooting) to go along with 13 rebounds, three assists, three blocks, two steals and only one turnover. No, this man is not just a collection of mismanaged facial follicles. When he's playing like he did tonight — like he played in his abbreviated tenure last year — he is one of the most intelligent, entertaining players in the league. Period. But, seriously. Shave.