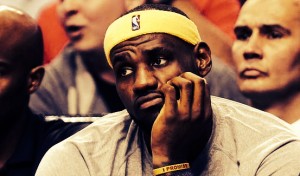 We've just past the quarter point in the season and the Cavs stand an unimpressive 14-10 thus far. We've asked five of our Cavs the Bloggers to answer five questions to summarize their feelings on the bi-polar performance of the team thus far.
1. Who has pleasantly surprised you?
Nate: Tristan Thompson has been a revelation. The guy has the serious hops back. As Tom noted, he's finishing almost 8% better inside of five feet. His five to nine foot stuff needs work, but those shots will start falling. Yes, he the beneficiary of playing with LeBron, and yes, his defensive rebounding is down (whose wouldn't be with Love), but the explosiveness difference is noticeable. He's getting higher on his dunks, blocks, and rebounds. He's back to being "Tigger" (the unfortunate nickname some here wanted to bestow upon him during his rookie year). His block percentage is way up too, and he's done this without increasing his foul rate. Canadian Dynamite's improved play may put Griffin in a bind next summer. He really ought to be starting over Andy right now, and when he does, it's going to make Tristan's contract demands that much stronger. Griff and Gilbert probably should have extended him. The contracts next summer are going to be bananas.