Across the Truehoop Network we are, as we do every year, staging a mock draft. With the fourth pick of this mock, the Cavs selected Kentucky small forward Michael Kidd-Gilchrist. Having filled one of their greatest needs by landing an athletic wing, the Cleveland Cavaliers select…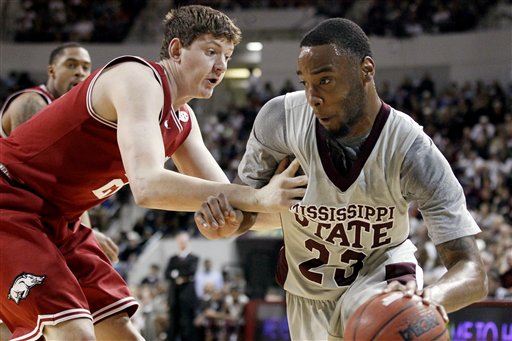 Arnett Moultrie, Power Forward/Center, Mississippi State
If you examine what the Cavs have done over the last few years, including a period of time when Chris Grant was the Assistant GM under Danny Ferry, they have an affinity for spectacular athletes: J.J. Hickson, Christian Eyenga, Tristan Thompson, et al. Whether those names fill you with dread or not, that's been the trend. It's why, for example, I don't think the Cavs will take Thomas Robinson with the fourth pick even if he's still on the board. They tend to go for players with higher ceilings.
Moultrie is nearly 6'11" in shoes and weighs 235 pounds. He's one of the very best big men in the draft in terms of leaping ability. He's a great rebounder when he wants to be, a clever finisher around the rim, has a nascent shooting stroke from fifteen feet and out, and a decent face-up game thanks to his above-average handle. That "when he wants to be" hangs over Moultrie's game like a succubus, though. He is an intermittently unreactive player on the defensive end, failing to defend the basket from the weak side or show properly on the pick-and-roll. When things don't go his way—when he works hard in the post, but doesn't get the ball, for example—he has a tendency to pout, which means he fails to grab rebounds he should, or he doesn't run back on defense.
If you're getting J.J. Hickson PTSD flashbacks, let me try to sell you on Moultrie. Or at least my vision for him. At almost 6'11" with the ability to tell gravity to cram it with walnuts, he has the tools to become a center if he commits himself to putting on some additional muscle. On the Cavaliers' roster, he makes the most sense as a "5," considering Andy Varejao will be 30 by the time the season starts, Tristan Thompson is 6'9″, and Semih Erden is only marginally better at basketball than a papier-mâché model of himself. Moultrie, despite his struggles in terms of team defense, is a pretty good one-on-one defender who could conceivably check most centers in the league without embarrassing himself. On offense, his developing jumper is the reason he could fit well next to Thompson. Unlike TT, whose shot is broken to the point that I worry he'll never be able to score from outside of eight feet, Moultrie has a high, fluid release that reminds me a little bit of LaMarcus Aldridge.
And that's the idea, really. That Arnett Moultrie could grow into the role of a poor man's Aldridge: a PF/C tweener who can rebound the ball, is competent defensively, can post-up a little, and knock down a few jumpers to open up the paint for slashing guards and wings. Lofty expectations, certainly, but Moultrie a.) improved measurably each of the three years he was in college and b.) seems to think he's a little better than he actually is. If the coaches could sell him on his role, I think he would relish the challenge of becoming a starting center for this Cavs team. Plus, he'll love running up and down the floor with Kyrie Irving and Michael Kidd-Gilchrist.
Kidd-Gilchrist is an important component of this pick, by the way. If we suppose the Cavs land MKG, they will have a core of him, Andy Varejao, Irving, Thompson, and Boobie Gibson (give or take Alonzo Gee and some free agents). I think there will be enough dedicated professionals on this team that they can absorb a more temperamental player like Moultrie. That's one of the main reasons you build a team full of model citizens, really, is so you can take a chance on a mercurial talent. Why not gamble on a possible solution at center?
It you're displeased with the notion of drafting Moultrie, you probably needn't worry too much. He fell in our Truehoop mock—and I think Chris Grant would jump on him if he dropped to the Cavs—but it's unlikely that he'll be around at 24. He's slotted in most mocks to go somewhere between the end of the lottery and the early 20s. Alternatives to Moultrie include wings like Memphis's Will Barton and Washington's Tony Wroten, and big men like Syracuse's Fab Melo and St. Bonaventure's Andrew Nicholson. And whatever the hell you wanna call Baylor's Quincy Miller. Obviously, predicting who goes at 24 is a difficult task. There's a lot of fluidity in terms of how teams value prospects once the draft moves out of the top 10 or so. (What I mean is there's almost zero chance Damian Lillard falls out of the top 12, but Moe Harkless could go anywhere within a 10-to-12 slot range.) The Cavs have also been very active in the trade market, and I wouldn't surprised if, one way or another, they end up picking higher than 24. And of course, there's always the possibility that the spirit of Russian novelist Andrey Platonov possesses Christ Grant's body on draft night, in which case the Cavs will probably select Inevitable Death, a lanky shooting guard out of Wichita State who might just be the steal of this draft.