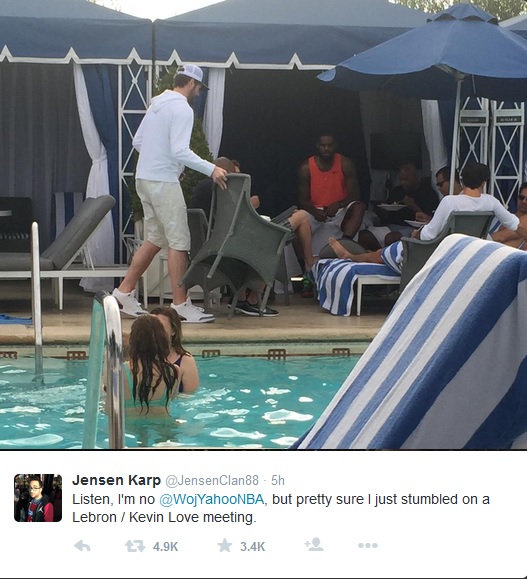 Well, Jensen Karp blew up Twitter last night when he tweeted a get-together pic between KLove and the King (pic edited). I guess that's as good a way as any to kick off the madness that will be the 2015 NBA free agency period. So, release the NBA suits! In less than 48 hours, teams can start recruiting free agents (12 AM EST, July 1st). Of course, any free agency talk for Cleveland starts with the fact that LeBron James has officially opted out of his contract and is now a free agent. Of course, everyone expects the King to re-sign with the Cavs, and the official line is that he is taking a "wait and see" approach with regards to the Cavs and free agency. Windy reports.
Last week, Cavs general manager David Griffin said the team had been in regular contact with James since the end of the Finals and that he was "very engaged" in discussions about the roster. Sources told ESPN, however, it is James' intention to stay somewhat removed from the Cavs' free agency until other free agents are handled.
Translation? James' cap hold of $21.6 million is less than the free agent contract he will sign later this summer, of about $23 million dollars. But, for maximum flexibility, it may help the Cavs to "officially" sign him last of all. In light of this, let's take a look at the Cavs options in free agency, both with their own free agents, and prospective ones.