Mallory and Nate will be consuming craft beer (drink responsibly) and live blogging the 2014 NBA draft.  #GoCavs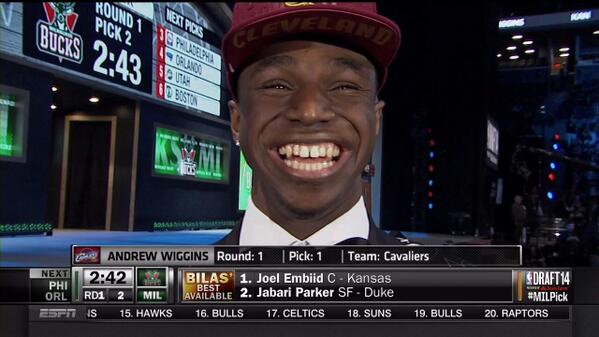 Holy cow!  I'm late.  A long trip to New Jersey to get some Great Lakes (I swear) has resulted in me being late.  But HOLY MOLY ANDREW WIGGINS!   Thoughts?
2nd Pick is (no surprise) Anth…errr Jabari Parker.  What do you guys think?  Perfect fit?  I'm glad he's near home, at least?  Who should Philly pick?
Nate: Mallory, So I'm drinking Fat Head's Sunshine Daydream Session ale.  You?
Mallory: I'm freezing some GLBC Wright Pils.  Lets hope it's cold in time for me to make fun of LA.
3rd Pick is…JOEL EMBIID!  Nate is probably excited about this, because he loves broken down centers (which there are now two of in Philly…)