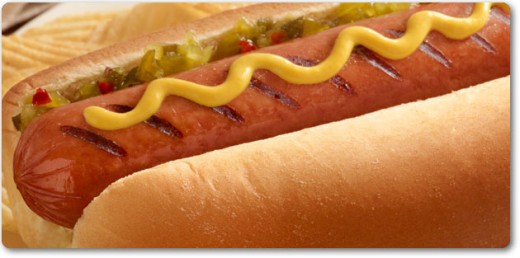 Cory Hughey and David Wood teamed up to breakdown the Eastern Conference teams' needs in free agency. Click on the team names to see a detailed break down of their contract situations. 
I feel a lot better now that Kevin Love has pretty much re-signed with the Cavs. I often acted like I didn't want him back, but I really just didn't want to be disappointed. I also loved Kevin Pelton's Love piece. In short, he said Love was part of both the best defensive and offensive units the Cavs had this season. To celebrate the Love news, I made a dinner that symbolizes Cleveland, and why Love probably came back. I cooked some good old beef hot dogs in beer (Busch Light, if you were wondering) and then whipped up a gastrique sauce with oranges. I'm a chef, sort of.
The point is that a gastrique is supposed to be uppity and hot dogs are the steak of the poor. However, it must also be noted that hot dogs are still delicious. The above meal defines Cleveland. We are a city that knows how to appreciate the finest things in life, but doesn't decide to be defined or controlled by them. Clevelanders just enjoy what's delicious.
My sister lives on the West Coast and many of my college friends do too, Los Angeles to be specific. It's a different world there. People who aren't girls do yoga, and they have pizza that's just bread with broccoli on it, aka liar pizza. In Los Angeles/the West Coast, I don't think a hot dog has been eaten unironically in years, unless you count the ones devoured by tourists who line up at Pink's Hot Dogs. That's a tough life to live and Kevin's choice today showed that he wants to enjoy finely sauced hot dogs without feeling shame. I don't blame him. Now, here's a former Angelino to discuss some free agency stuff. (more…)